Active. Social. Uplifting.
Breathe Curious with InterPlay
Beth Sarver
and
Amy Shoemaker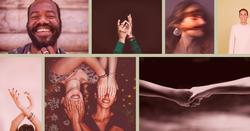 Kansas City, MO
Fourth Fridays this Fall 7:30pm to 9:30pm
Can you imagine walking into a space feeling stressed and fatigued and walking out feeling fully expressed and rejuvenated? InterPlay has the unique ability to facilitate the release of our stored day-to-day stress and replace it with a buoyant spirit, creative mind and more connected heart. Active. Uplifting. Social. It's like going to the gym, the club and church all at the same time. But without any of the shame, judgement or guilt that you might experience in any of those places. (this is not a religious event, but people of all faiths use InterPlay to deepen their spiritual practices) Join Beth Sarver and the rest of the InterPlay KC Guiding Council as we reclaim our power through our playfulness. $10-20 sliding scale. First time come for free and check it out!
Cost:

$10-20 sliding scale, FREE for first time folks.
Registration/Information:

Beth Sarver, hopeknows.org@gmail.com

Venue
The Laya Center
601 Walnut Street - Suite 200
Kansas City, MO 64106
The Laya Center is located on corner of 6th and Walnut in downtown KCMO. Parking is located on the south side of the building and the entrance is on the north side, on 6th street. If the door is locked, call the receptionist (number on the door). Enter on the ground floor and walk directly to the elevator, take it to the second floor. We will be in the yoga room.
Leaders
Beth Sarver
Beth Sarver received her Bachelors in Fine Art with an emphasis in Sculpture and Arts Education and is a certified leader of InterPlay; which is a pedagogy for cultivating mindfulness through creativity, performance and play. A regional trainer in Trauma Informed Care, Trauma Sensitive Schools and Building Resilience Culture, Beth has over 13 years of experience as an artist educator in a wide variety of non-traditional settings including: juvenile detention centers, foster care group homes and fine art studios of all kinds. Beth is also an award winning Youth Mentor for the Juvenile Rehabilitation Administration of Seattle, WA.
Amy Shoemaker
Amy is the Bay Area Regional Coordinator for InterPlay, an InterPlay teacher, Wing It! Member, and Spiritual Director living in San Francisco. She discovered InterPlay as a student at Pacific School of Religion and immediately took to it - like a fish to water. Amy is available for workshops and retreats nationwide.