Expect to relax, play, connect and create!
SUMMER UNTENSIVES BY THE OCEAN
AUGUST 3-6 & & SEPTEMBER 14-17 with Ginny Going, Tom Henderson, Aviva Enoch, Terry McCarthy, Ken Miller, Lorrie Strifel and other InterPlay Leaders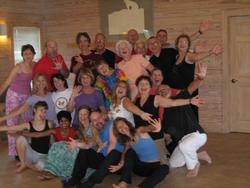 Pine Knoll Shores, NC
August 3-6 & September 14-17
Thursday dinner thru Sunday lunch
Say YES to InterPlaying next to the Atlantic Ocean and be nurtured by the water, wind and sun! This will be an extended time of creative play in a community of people who'll affirm and applaud you! There'll be time for dancing, telling stories, walking on the beach, swimming in the ocean, enjoying nature and being part of a playful community. Trinity Center is nestled in a beautiful maritime forest with direct access to the ocean and the sound. Email colleagues.interplay@gmail.com if you want to be on the definite or the maybe list for either of these Untensives and specify which date.

These Untensives will be open to those who are fully vaccinated and boosted against Covid. Additionally, we will require a negative Covid test before you arrive. If you cannot be vaccinated due to health problems, you will need to test for covid each morning, wear a mask in the meeting room and dine at outside tables.

Cost: $315 for housing and meals at Trinity Center. $375 for single occupancy (limited availability). These amounts do not include any tuition. At the Untensive participants are invited to make a contribution to Ginny and Tom for organizing and leading this event.

To register, send a $115 deposit to Colleagues, 5909 Valley Estates Dr., Raleigh, NC 27612

Scholarships available: Triangle InterPlay is offering scholarship assistance for these events. For scholarship requests, email Roger Adkins at rogerkadkins@icloud.com.

For more information, contact Tom or Ginny at 919-412-3851 or colleagues.interplay@gmail.com
Cost:

$315 for housing and meals at Trinity Center and donation for leaders
Registration/Information:

colleagues.interplay@gmail.com or text 919-412-3851

Venue
Trinity Retreat Center
Pine Knoll Shores, NC 28575
Trinity Center is nestled in a beautiful maritime forest on the North Carolina coast with access to the sound and the ocean.