For the Love of PLAY!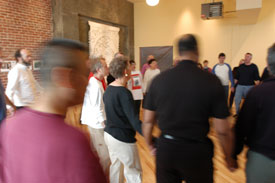 Bellingham, WA
First Saturdays: October 5, November 2, December 7 (1:00-3:00 pm)
What is InterPlay?
It's about discovering your own body wisdom and the body and spirit connection we all have! It's about playing with shape & stillness and story making. This spiritual practice refreshes your soul as you find amusement in easy ways of playing. It's a practice that can be simple and silly as well as go deep within. All are invited to discover a play practice which deepens connections to oneself and others.
Cost:

By Donation
Registration/Information:

Deanna Murray at deanna@fbbc.net

Venue
First Congregational Church, UCC
2401 Cornwall Ave.
Bellingham, WA 98225
Leaders
Deanna Murray
Deanna Murray discovered more than ten years ago the value of InterPlay in her life as a woman, as a minister, and as a spiritual director. Deanna began participating in a weekly playgroup in Minneapolis. Since that time, she moved to the Seattle area and is now a graduate of the Seattle-based InterPlay Leadership Program. She says, "InterPlay is a life giving spiritual practice which brings me into the 'moment', opens me to a playful approach to life, and grounds me in my own body wisdom." Deanna has been playing with the tools of InterPlay since 1995, leading small and large groups, introducing movement and play in retreat settings, and inviting embodiment in worship. She is an ordained minister in the United Church of Christ, a spiritual director and a local pastor of a renewing congregation on Capitol Hill in Seattle. Often Deanna leads play groups at WomanSpirit, a lovely retreat center on Cougar Mountain in Issaquah, Washington.