Reflecting on another crazy year!
Year's End: Return to the Parallel Universe
Gathering online for a hopeful future.
Phil Porter
,
Carolyn Renée
,
Theresa Cunningham
, and
Randy Newswanger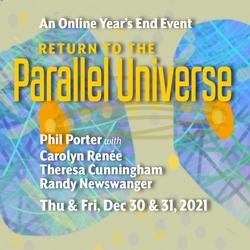 ONLINE
Thu & Fri, Dec 30 & 31, 2021 • Thu Noon–6 pm (PT) • Fri 10 am – 6:30 pm (PT)
For several years, we have offered an end of the year event at InterPlayce where we can escape to a Parallel Universe, where we can create what we want for ourselves and our communities for the year to come.
Let's return there again! This has been a CRAZY YEAR! Let's gather in a place where we can play together with what has happened and imagine how we might shape a new future. We will get to celebrate the countercultural values we hold as people of respect, integrity, and creativity! InterPlay co-founder Phil Porter will be joined by Carolyn Renée, Theresa Cunningham, and Randy Newswanger who will each lead a session during the event.
What are the stories you want to lift up? What has your year been like? What do you want to reclaim, or celebrate, or create for yourself?
This year, we meet online right before the end of the year—Thursday & Friday, December 30 & 31, 2021.
Come move, tell stories, claim your voice, connect, and be still to bring in a hopeful 2022. Spontaneity is rewarded with affirmation, creativity is what we all do naturally, laughter fits right alongside tears, and art is how we love!
Come party! On New Years Eve (Friday) the last session from 5–6:30 pm PT will be a community performance night where we will create stuff for each other—everyone can get involved.
Open to both new and advanced InterPlayers and everyone in between! Come for all or part of it.
Affordable!
This event is a $125 value, but pay what you can! Come for all or just a part of the event.
Schedule
Thursday, December 30
Noon–2:30 pm & 4–6 pm PT Connection and play
Friday, December 31 (New Years Eve)
10 am – 12 noon PT Connection & Play
1:30–3:30 pm PT Connection, play and dreaming
5–6:30 pm PT Community Performance Time
Zoom link
https://us02web.zoom.us/j/794173752
Register Online
If you don't see an online payment option that fits you, please call the office to register. No one turned away for lack of funds.
Community Performance Only – New Years Eve 5 pm PT / 8 pm ET
You will need to register to get the Zoom link. No one turned away for lack of funds.
Cost:

Pay what you can afford! $125 value
Registration/Information:

Registration: Use the PayPal buttons above or email office@interplay.org