Jane Siarny
and
Marcia Smith-Wood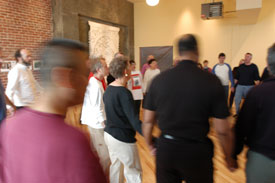 Cost:
Registration/Information:
Leaders
Jane Siarny
Jane Siarny is dedicated to uplifting the human spirit through creativity, community building, and body-wise practices. For me, InterPlay opens the door to an integrated spiritual practice that allows for freedom and growth. Throughout my dance career and yoga teaching I have found InterPlay to be the one practice where I can express all of myself; body, mind, heart and spirit. The Online Dance Chapel is one of the best ways for me to consistently share the transformative power of InterPlay. Jane also is the InterPlay Life Practice Program Coordinator, has led numerous Life Practice groups since 1999, and is a Mentor & Facilitator in the InterPlay Leader Training Program. Jane's story can be found in MOVE: What the Body Wants by InterPlay co-creators Cynthia Winton-Henry with Phil Porter.
Marcia Smith-Wood
Marcia Smith-Wood discovered InterPlay in 2004 while in the Bay Area studying to become a Spiritual Director. Back home in northwest Indiana, she searched and found Chicago InterPlay, and fell in love with InterPlay's contagiously creative joy, depth, beauty and physicality of grace. She went on to become an InterPlay leader. As a progressive minister, she uses InterPlay with the spiritual retreats she leads for all ages. Recently retired from pastoral ministry, her life continues to expand with joy, letting InterPlay be a part of her work as a Spiritual Director, a Certified Healing Touch Practitioner, artist, poet, and Dream Group Leader. Being a trained InterPlay leader is part of her spiritual call to live fully, deeply and joyfully as a healing presence in this world.