Deep Play-Access Your Body Wisdom!
A Time to stay connected and play together in this time of Social Separation!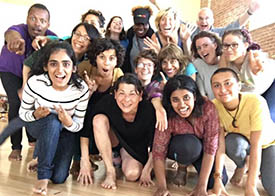 Online, ONLINE
Gather every Wednesday 9:30am PT- 11:30am PT
Join us as we use the forms and Body Wisdom Tools of InterPlay to unlock the wisdom of our own bodies and discover deep peace, great joy and unimaginable ease. This longer time allows more time for a deeper experience with InterPlay's transformational Tools, deep reflection, relaxation, exformation and delight in a community of affirmation and support -you'll be amazed at the power of this online experience!.
Cost:

$0-$15 slidding scale
Registration/Information:

contact Nancy at revdancer2@gmail.com. You will be sent a zoom link.

Leaders

Nancy Pfaltzgraf

Nancy Pfaltzgraf has been joyfully leading InterPlay classes and retreats in local and national settings since 2006. Having discovered InterPlay and the Life Practice Program helped her discover ease and joy in her professional life as the pastor of progressive Christian congregations. Her experience as an RN and a Hospice Chaplain has also given her a unique perspective on the way InterPlay can relieve stress and empower people in the helping professions to live and work with more grace and ease. Since leaving pastoral ministry it has been her delight to continue to offer her gifts through Body Wisdom - Deep Play groups for helping professionals, Retreats and Untensives, InterPlay Life Practice programs, Online Body Wisdom Tools classes, online classes and untentsives focusing on the Move to Greatness wisdom and an Online Interfaith Dance Chapel. Nancy holds coaching certification using the FEBI® [Focused Energy Balance Inventory] and Appreciative Inquiry and delights in both one-to-one and group Soul Coaching. Although her home base is in the Chicagoland area, her mastery of online communication forms allows her to serve people wherever they are. All this allows her to fulfill her life mission to "lead with love, follow with trust and dance with joy with those ready to step into the life-giving rhythms of grace".,