Good Times XIV Summer InterPlay Camp
Celebrating 30 Years of InterPlay in Seattle
Christine Gautreaux, MSW
and
Phil Porter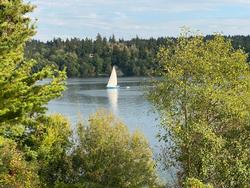 Vashon Island, WA
Friday, Sept. 1st beginning with dinner at 5:30 pm (check in time begins at 4 pm) through Sunday, Sept. 3rd at 4 pm
Imagine, Create, Play
Join Christine Gautreaux and Phil Porter in celebrating the 30th year of InterPlay in Seattle at the annual InterPlay Summer Camp on Vashon Island near Seattle.
Join them in a weekend of making stuff up on the spot out of the magical, mysterious and mundane details of your life. Rediscover joy and delight, make new friends, connect with old friends, laugh, explore and wallow in the sheer beauty of the island. And someone else will do all the cooking!
InterPlay can change your life and change your world. See things in new ways, shake off the old. Get support from an affirming community. Find some new challenges if you are looking for them—stretch yourself toward a fuller glory! Share your stories and movement and sounds along the way.
Treat yourself to a time of self-indulgence!
Cost:

Tuition $300 ($250 before July 15th) Housing and Meals ($200 camping, $250 triple, $300 double)
Registration/Information:

Contact Sharie Bowman at interplaynorthwest@gmail.com

Venue
Camp Burton
9326 SW Bayview Drive
Vashon Island, WA 98070
Leaders
Christine Gautreaux, MSW
Christine (she/her) is dedicated to the pursuit of play, joy, art & social justice. Christine's superpowers include connecting people, helping folks manifest their dreams, standing up against injustice and using art to make a difference in the world.

She currently uses performance art, movement, poetry, storytelling and Interplay to address issues of oppression with women who are incarcerated, people living with severe and persistent mental illness and homelessness. She also works with activists and artists to maintain balance and self-care during these intense times we find ourselves living.

Pivoting with the times Christine has been called an expert on Zoom and utilizes this online platform to facilitate connection and ease in an online, interactive learning environment.

Christine Gautreaux holds a Bachelor's and Master's Degree in Social Work. She has professional experience with successful grant writing, community organizing and social media marketing. Christine is a life coach for caregivers who are burnt out and ready to take back their own life and make it delightful again. She is the co-author of Stillpoint: A Caregivers Playbook to find ease and to take a deep breath and reclaim joy and Women Connected in Wisdom: Stories and Resources Rooted in the 8 Dimensions of Wellness.
Phil Porter
Phil is one of the founders of InterPlay. He is a teacher, performer, writer, and organizer. With Cynthia Winton-Henry he is the co-founder of WING IT! Performance Ensemble, and has written several books, some in collaboration with Cynthia, including Having It All: Body, Mind, Heart & Spirit Together Again at Last and The Slightly Mad Rantings of a Body Intellectual Part One. Phil is particularly interested in the use of InterPlay in organizational life, and believes that InterPlay can be a powerful tool to create communities of diversity and peace.