The Annual InterPlay Men's Retreat
INSPIRATION IN CHALLENGING TIMES
Billy Amoss
and
Douglass Farnum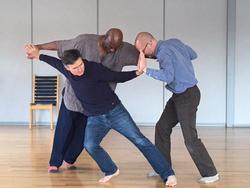 Germantown, MD
Friday, October 27th, 6:00 pm - Sunday, October 29th, 1:30 pm.
This annual InterPlay men's retreat is about movement, contact, voice, storytelling, stillness, & connection - the things every Body needs to feel fully alive. They will be offered in abundance. Previous InterPlay experience is not necessary. .
Cost:

$350 including room and board
Registration/Information:

Billy Amoss bamoss@rostropovich.org Mail $100 deposit to Billy at 10401 Colesville Rd, Silver Spring, MD 20901 or PayPal (contact Billy for details)

Venue
Wellspring Retreat Center
11411 Neelsville Church Rd.
Germantown, MD 20876
Wellspring Retreat Center is located at Dayspring, a 200-acre farm, lake and woodland area owned by Church of The Savior . Approximately 30 minute drive northwest of Washington, D.C
Leaders
Billy Amoss
Billy is a certified InterPlay leader in the Washington, D.C. area. Together with Tom Henderson Billy has led InterPlay retreats for men for over 15 years. These retreats demonstrate to him year after year that InterPlay offers a unique set of tools for "ordinary guys to do extraordinary things." Billy is the Executive Director of the Rostropovich Foundation, a DC-based non-profit organization that finances and manages international children's health programs.
Douglass Farnum
Since retiring, play deprived Douglass works hard at doing nothing. He finds that interplay feeds his inner growth and complements his meditation and Non Violent Communication (NVC) practices. After 10 years of dabbling in interplay Doug recently became an interplay leader.