Let's sink into our rootedness and our ease together
Wednesday Drop-in: Ground & Grace
2nd & 4th Wednesdays; let's find each other on Zoom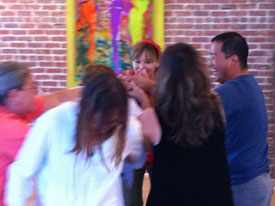 Online, ONLINE
2nd and 4th Wednesdays 7:30 - 8:45pm EDT; December 9, 23: January 13, 27 ...
Release, Restore, Renew. Exform and find your easy focus. We need our physicality of grace; we need our group body now. Come connect and step into communal nourishment, affirmation and safety. Contact CC KIng for the Zoom contact information.
Cost:

Donations are welcome.
Registration/Information:

CC King at ccking.interplay@gmail.com

Venue
Online
Online, ONLINE
This will be an online event which could originate from anywhere in the world and would be open to anyone around the world.
Leaders
CC King
CC King is a certified InterPlay Leader and trainer, Boston-area coordinator and a memory play specialist. She has been practicing the joyous unfolding of Interplay for almost 20 years. CC is an expressive therapist, visual artist, teacher and community activist. As the co-founder of a local arts and environment program, she facilitates workshops in organic sculpture and organizes public performance. Play with elders and Memory Cafes are a special interest, as are cancer support and racial healing & transformation. Her background includes nonprofit management, art and family therapy, trauma-informed InterPlay and a life-long commitment to finding sustenance, creative activism, and joy in the natural world.