Dream Play
sleeping, waking, visions and quests...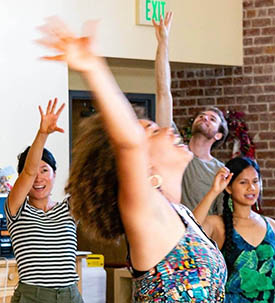 Online, ONLINE
2nd and 4th Wednesdays 7:30 - 8:45pm EDT; March 24; April 14, 28
Are you drawn to explore … sleeping dreams, waking dreams, dreams that visit us and dreams we create?
This is not about interpreting our dreams but about inhabiting them; we are invited to be with images and visitors; to listen & sound with voices, to bring the actions and feelings into our full body spirits. I am not a dream worker expert, but I have been dreaming and listening to them for 63 years! (Maybe longer…) Join me to bring our InterPlay tools and affirming community to our dreams as we explore healing and imagining; perhaps dance with our demons and certainly dream dance with one another. Your ideas are always welcome!
Four sessions on 2nd and 4th Wednesdays, 7:30-8:45pm EDT: March 24; April 14, 28 and May 12
Cost:

$10-20 via PayPal or Venmo, as you are able. Don't let money stop your dreaming!
Registration/Information:

CC King at ccking.interplay@gmail.com

Leaders

CC King

CC King is a certified InterPlay Leader and trainer, Boston-area coordinator and a memory play specialist. She has been practicing the joyous unfolding of Interplay for over 20 years. CC is an expressive therapist, visual artist, teacher and community activist. As the co-founder of a local arts and environment program, she facilitates workshops in organic sculpture and organizes public performance. Play with elders and Memory Cafes are a special interest, as are cancer support and racial healing & transformation. Her background includes nonprofit management, art and family therapy, trauma-informed InterPlay and a life-long commitment to finding sustenance, creative activism, and joy in the natural world.