How much of me is... me?
Inner Liberation: playing among our social beliefs & embodied wisdom
2nd & 4th Wednesdays
CC King
and
Livier Ayon (USA)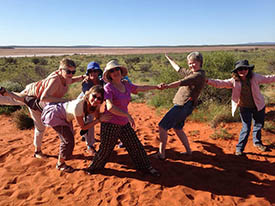 ONLINE
2nd and 4th Wednesdays 7:30 - 9:00pm EDT; January 13, 27; February 10, 24
With Liv Ayon; we'll gather in a playful context of compassionate self reflection. Throughout our lives what we experience, intentionally and unintentionally, shapes our brains and behavior. As we explore and make sense of our experiences, we get closer to our inner truth. We can shape our brains! and our relationships in a playful dance of discernment. Join us for 4 sessions in January and February.
Cost:

Donations are welcome: $10-20 via PayPal or Venmo
Registration/Information:

CC King at ccking.interplay@gmail.com

Leaders

CC King

CC King is a certified InterPlay Leader and trainer, Boston-area coordinator and a memory play specialist. She has been practicing the joyous unfolding of Interplay for almost 20 years. CC is an expressive therapist, visual artist, teacher and community activist. As the co-founder of a local arts and environment program, she facilitates workshops in organic sculpture and organizes public performance. Play with elders and Memory Cafes are a special interest, as are cancer support and racial healing & transformation. Her background includes nonprofit management, art and family therapy, trauma-informed InterPlay and a life-long commitment to finding sustenance, creative activism, and joy in the natural world.