Creeative Play and BodySpirit Renewal
SPIRITPLAY ONLINE with Ginny & Tom NEW TIME
Tom Henderson
and
Ginny Going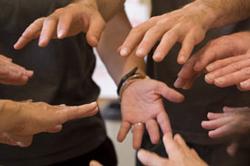 on-going group 3rd Fridays 1-3 pm Eastern time, Sept. 18, Oct. 16, Nov. 27, Dec. 18
Now that SpiritPlay has moved online, we are changing the time to enable participants from the west coast and across the country all the way to Europe and beyond to take part! This happened at our May and June SpiritPlay online sessions and it connected us with InterPlayers from around the world. What a joy!



A time of creative play, self-discovery, rest and renewal. With InterPlay's accessible tools, we focus on affirmation, self care, community support and having more ease in all parts of our lives. InterPlay is the perfect antidote to stress, exhaustion and cynicism. No previous experience of any kind needed, just a spirit of willingness.

InterPlay is something that any body can do - regardless of size, shape, age, background, ethnicity, gender, orientation or belief. All that's needed is a little willingness. If you desire to have more ease and less stress in all aspects of your life, SpiritPlay offers "body wise" tools you can use every day. Expect to laugh, savor and relax!


Cost:

Contribution in any amount. PayPal ginny.going@gmail.com or check to Colleagues, 400 S. Boylan Ave., Raleigh, NC 27603
Registration/Information:

Email colleagues.interplay@gmail.com

Leaders

Tom Henderson

Tom is a certified InterPlay leader, community artist, organization development consultant and retired pharmaceutical chemist. With his wife, Ginny Going, he is co-owner of Colleagues, dedicated to enabling individuals and organizations to thrive. Ginny and Tom also co-directed the Interplay performance company Off the Deep End Ensemble for 15 years beginning in 1997.

Ginny Going

As a recovering serious person, I consider InterPlay my 12-step program and my life practice for having more ease and grace. I've been InterPlaying for 27 years and have watched the blooming and spread of InterPlay all over the world with gratefulness and delight.

For the past 13 years I've been immersed in the development and growth of the Leader Training Program and currently serve as the program coordinator. I love offering people the "big body" tools of InterPlay for telling their stories, especially people on the margins of our communities. I am also passionate about embodied spirituality, engaging people in prayer and worship forms that include and honor the body. It has been an amazing experience to participate in and teach InterPlay in many places around the world.

Currently the Leader Training Program is being reshaped to integrate Racial Equity and Transformation into all aspects of InterPlay leader training. This is truly an exciting and exhilerating time to be part of the world-wide community of InterPlay!