Nurture your Body & Soul every 1st Wednesday or select Saturdays
Wisdom of the Body ~ InterPlay Monthly Groups
Active, creative, life-changing!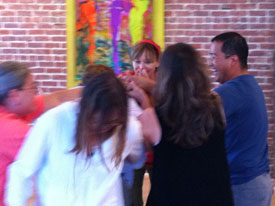 Geneva, IL
1st Wednesdays: 10:00 am - 12:30 pm (no 7/3)
and/or Saturdays 7/13, 8/24, 9/21 from 1:00-3:30 pm
This group offers a soulful place to discover practices that develop ease in movement, voice, stillness, contact and storytelling. InterPlay is a practice and philosophy rooted in the power of play. It's an easy to learn, creative process that uses movement, storytelling, and voice —but does it in ways that don't require particular skill or even nerve. It balances experiences of reflection and activity. Integrating body, mind, heart and spirit, InterPlay celebrates and creates connection and community. Through this simple form of play, we learn more about ourselves and each other. It is incremental, affirming, and something that anybody can do! It opens paths of connection between people-- between cultures and faiths.
Cost:

Drop in: $30 1st time or $55 thereafter/$125 for 3 month commitment
Registration/Information:

630/715-8590 InterPlayChicago@sbcglobal.net

Venue
Geneva United Methodist Church
211 Hamilton
Geneva, IL 60134
ample parking, wheelchair accessible, 1 hour West of Chicago
Leaders
Jane Siarny
Jane Siarny, MFA, Master InterPlay® Leader, Certified Yoga Teacher CYT-200 is dedicated to uplifting the human spirit through creativity, community building and body-wise practices. Her training and inspiration draws from classical ballet & modern dance, improvisation, singing, poetry, yoga and InterPlay. Currently, Jane is the InterPlay Life Practice Program Coordinator and led her first Life Practice group in 1999. She also is a trainer in the InterPlay Leader Training Program. She is happy to have discovered InterPlay's therapeutic, community building approach to celebrating the wisdom of the body. From 1994-2004 she was co-director of the InterPlay based OUTABOUNDS Performance Company, performing and teaching throughout the U.S. Jane's story can be found in MOVE: What the Body Wants by InterPlay co-creators Cynthia Winton-Henry with Phil Porter.