Friday Night Open Community Play
Come & Play!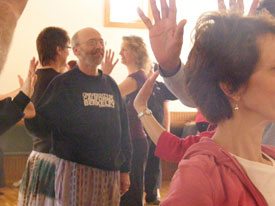 Kalamazoo, MI
Friday nights on quarterly basis 6:30 - 8:30 (new times)
Take two hours out of your busy month to explore your Body Wisdom in beautiful, serene Sangha Yoga Center. For newcomers and experienced players alike. Easy-to-learn forms using Story, Sound, Movement, and Stillness with lots of room to do it the way that's right for you. Messing up is celebrated! Facilitated by InterPlay Leader Margaret Bruder with Life Practice Program graduates . Recommended you arrive downtown early enough to find parking as it can take a little while on some Friday nights. Street parking is FREE on the Mall, Farmers Alley, & surrounding side streets. For a small cost park in the indoor lot. Enter the "Kalamazoo Ramp" on Portage Rd. (same ramp used for Rave Movie Theater). Go to 4TH FLOOR of the ramp to Farmer's Ally Skywalk. Skywalk takes you directly into Mall Plaza, take the elevator down to the first floor of Mall Plaza, around the corner to the left. Go to sanghayogacenter.com for driving directions and more.
Cost:

$12
Registration/Information:

Margaret Bruder 269/271-1977 margbrude@yahoo.com

Venue
Sangha Yoga Center
157 S. Kalamazoo Mall, Suite 140
Kalamazoo, MI 49007
The new location for Sangha Yoga is located on the Kalamazoo Mall and can be entered directly off Farmers Alley or thru the building by walking in off the Mall. Parking available and free after 5 p.m. on both those streets and surrounding areas or in the lot behind. Enter lot on Portage Ave. next to Rave Movie Theater. The Farmers Alley Walkway is on 4th floor, walk to Mall Bldg. and take elevator to 1st floor. Sangha Yoga website has detailed maps and links to mapquest directions. SYC takes cash or checks only.
Leaders
Margaret Bruder
Margaret Bruder has worked as a Special Education Teacher and a massage therapist for over 36 years combined. She brings her body wisdom and her playful nature as well as her desire for growth to her classes. Margaret enjoys supporting others in delving deeper, playing freely, and living lighter. She appreciates that Interplay offers a chance to explore, "mess up", improvise, and let go in a safe, nurturing, and playful environment.