LIVE FULLY in your experience
InterPlaying with Joy and Grief
Release What No Longer Serves Us
Agnotti Cowie
and
Kaira Jewel Lingo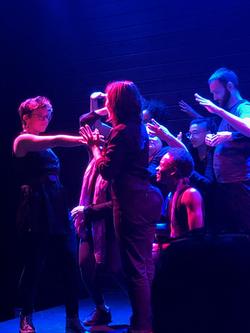 Online, ONLINE
June 4th for 1.5 hr 8am pst / 9am mt / 10am ct / 11am et
Bring your full self to connect with your body wisdom and honor your grief in this interactive session. InterPlay invites us to tell our stories, move freely, find our voice and connect in stillness.

Bring your full self to connect with your body wisdom and your experience of grief. Give yourself time and space to honor whatever you are experiencing at this time. Through InterPlay forms, this interactive session will encourage us to tell our stories, and help us access the movement, sound and stillness that wants to be expressed so that we can deeply honor our grief. We will release what no longer serves us so that we can begin to invite more joy into our lives.

The body holds profound wisdom for each of our unique dances with grief. Coming home to our body wisdom is a courageous act when grief is overwhelming. We will create a space for participants to share stories to REMEMBER what they have lost, as well as use movement and sound to LIVE FULLY in their experience.

This session is for those willing to explore their experiences through embodied practice. InterPlay never leads people to say or do anything. The system of forms and tools are offered as a space to unlock each participant's unique wisdom.

This event is offered in a spirit of generosity and everyone is welcome to participate regardless of finances. For those who can, we invite you to offer a donation to support the facilitators.

Venmo: @Kaira-Lingo
PayPal: truejewel99@gmail.com
Please remember to put "June 4th" in memo. Thanks!
Cost:

Free-will donations: Venmo: @Kaira-Lingo PayPal: truejewel99@gmail.com Please remember to put
Registration/Information:

Click here: REGISTER

Venue
Online
Online, ONLINE
This will be an online event which could originate from anywhere in the world and would be open to anyone around the world.
Leaders
Agnotti Cowie
Agnotti Cowie attended the first ever "Art & Social Change: InterPlay for Millennial Leaders" in 2010. Since, she joined InterPlay's national board as well as becoming a certified InterPlay leader. For the past two years, she returned to Oakland as a facilitator of the Art and Social Change training. Agnotti facilitates workshops worldwide employing a variety of pedagogical techniques such as InterPlay, Theatre of the Oppressed, and Devising. Currently she is based in Chicago where she does workshops in schools, organizations and with social movements. Recently, she has taken her work around the globe teaching workshops in Vietnam, India, and Germany.
Kaira Jewel Lingo
Kaira Jewel Lingo teaches meditation and mindfulness internationally, with a focus on activists, people of color, artists, educators, families, and youth. She began practicing mindfulness in 1997. An ordained nun of 15 years in Thich Nhat Hanh's Order of Interbeing, she leads retreats in the U.S. and internationally, offering mindfulness programs for educators and youth in schools, as well as individual spiritual mentoring. In addition to her roots in the Zen tradition, she practices and teaches in the Insight tradition and will graduate from Spirit Rock Teacher Training in 2020. She explores the interweaving of art, play, ecology and spiritual practice and is a certified yoga teacher and InterPlay leader. She has loved training in dance and other expressive arts since childhood. She edited Thich Nhat Hanh's,
Planting Seeds: Practicing Mindfulness with Children
and has articles and chapters published in numerous magazines and books, including
Real World Mindfulness for Beginners
. She is currently based in Colombo, Sri Lanka, but will move to Louisville, Kentucky in May, 2020. Visit
kairajewel.com
to learn more.