A Splash of Joy in your Week
A Splash of InterPlay
Shake off the Mondays with Movement, Story and Voice
Agnotti Cowie
and
Carolyn Renée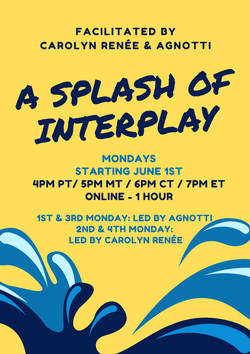 Online, ONLINE
Mondays (Starting June 1st) for an hour 4pm pt / 5pm mt / 6pm ct / 7pm et
Join us for some online fun where you will connect with the community and your own unique wisdom. Carolyn Renée & Agnotti will alternate teaching each week. We will dive into the basics of InterPlay creating a splash of joy in your week.
Starts June 1st
1st & 3rd Monday: Led by Agnotti
2nd & 4th Monday: Led by Carolyn Renée
InterPlay is easy, fun, and life changing. It is based in a series of incremental "forms" that lead participants to movement and stories, silence and song, ease and amusement. In the process, we discover the wisdom in ourselves and our communities.
Pay online with PayPal
Cost:

$10-$25 sliding scale or use or purchase a multiple class card. No one turned away for lack of funds.
Registration/Information:

For Zoom link contact agnotti@interplay.org. Zoom link will be the same each week.

Venue
Online
Online, ONLINE
This will be an online event which could originate from anywhere in the world and would be open to anyone around the world.
Leaders
Agnotti Cowie
Agnotti Cowie attended the first ever "Art & Social Change: InterPlay for Millennial Leaders" in 2010. Since, she joined InterPlay's national board as well as becoming a certified InterPlay leader. For the past two years, she returned to Oakland as a facilitator of the Art and Social Change training. Agnotti facilitates workshops worldwide employing a variety of pedagogical techniques such as InterPlay, Theatre of the Oppressed, and Devising. Currently she is based in Chicago where she does workshops in schools, organizations and with social movements. Recently, she has taken her work around the globe teaching workshops in Vietnam, India, and Germany.
Carolyn Renée
Carolyn Renée is a teaching and performing artist, InterPlay Leader, organizer and administrator. She serves humanity as an organizer, teaching artist and InterPlay Leader. Since 2006 she has been a teaching artist with Synchronicity Theatre's "Playmaking For Girls" (PFG) program that empowers incarcerated girls, refugees, and young women in foster care through play-writing, storytelling, and theater performances. Carolyn Renée has written two plays, one of which she received funding from Atlanta Mayor's Office of Cultural Affairs. In InterPlay, an organization that is committed to using the art of InterPlay; an art-based system to tap into the wisdom of the body and promote well-being, she has produced community showcases, taught homeless men and women, and organized racial equity and transformation workshops. She serves as a Co-Liaison Leader to InterPlay Leaders and People of Color. In May 2017, Carolyn Renée served as the lead organizer for the national InterPlay organization's first ever People of Color Retreat. She solidified her art and activist roots in her former roles as Arts Program Director with the Mississippi Arts Commission, and Executive Director of Alternate ROOTS, a nonprofit art and social change organization for artists-activists. For a decade her work with Alternate ROOTS, and the Mississippi Arts Commission afforded her the opportunity to work closely with social change artists, art producers and presenters; the nonprofit arts community, and a myriad of arts organizations throughout the southeast United States and the District of Columbia. Serving in an organizing role she helped create undoing racism workshops, mini-festivals, learning exchanges, retreats, showcases and conferences. In September 2018, she served as advisor to the Atlanta venue of the 50,000 Lions of Justice Festival in support of youth performers for more than 50,000 youth audience participants in nine states throughout the USA. Carolyn Renée believes the work of community organizing is like riding a bicycle, or swimming—once you know how you just never forget how to create superb opportunities for connection. She uses "Carolyn Renée" as her full name.