For everyone and anyone
Art and Intimacy
Exploring the Creative Impulse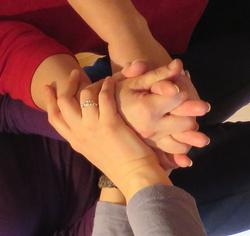 Washington, DC
April 18, 9:45am-4pm & April 19, 1-5:00pm
Together we will explore the creative process using InterPlay forms and visual art.  Finding inspiration through stories, movement, and song we will tap into the subconscious to bring more creativity into our daily lives. During the workshop we will we will pay attention to how we take in our environment and create intimacy with the world around us. We will engage each of our senses using what we absorb to nurture insight and inform our art? The workshop will include hands on art.  We will play with how we embody the making experience in a way that is accessible to everyone. 

"When the artist is alive in any person, whatever the work may be, they become inventive, daring and self-expressive. They become interesting to other people. Enlightening and opening the way for better understanding." Robert Henri from "The Art Spirit"

Joining us with special offerings is Nicola Kapalai a Somatic Therapist and Media Producer. Clients look to her for support in deepening connection within themselves and their relationships. Within groups, Nicola  guides people to engage through their senses and play with the creator within. Utilizing the properties of water Nicola often facilitates experiences in warm water environments.  Besides managing her private practice in Minneapolis MN., she's currently producing and co-hosting a video series exploring meaning and connection through the six senses.
Cost:

Saturday $60.00 / Sunday $40.00 *Discounted for both days: $85 (supplies included)
Registration/Information:

Mail check payable to InterPlay DC, to Peter Kent (Treasurer) 6827 4th Street NW, DC 20012/ for further information contact liz Lescault

Leaders

Liz Lescault

Liz Lescault coordinates the DC InterPlay Open Gathering Program and works on special events and DC InterPlay workshops with Kate Amoss. She is also a member of the DC InterPlay Board, manages the InterPlay DC Facebook page and the InterPlay DC website with Mike Perz. Liz leads Open Gathering days in partnership with other DC InterPlay leaders. She also leads InterPlay at Iona Senior Services, which provides care for elders with chronic physical and cognitive disabilities. Liz is a sculptor by profession and teaches art at her home studio. Her studio is at Artist Street Art Projects an exhibition space and art incubator in Mt. Rainier, MD.