Ring in the New Year the Interplay way!
Interplay New Years Untensive
The tradition continues
Ken Miller
and
Lorrie Streifel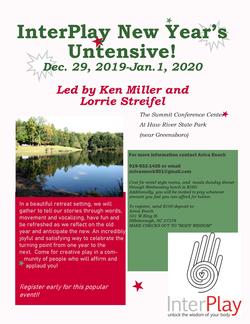 Brown Summit, NC
Sunday, Dec. 29 dinner through Wednesday, Jan. 1 lunch
In a beautiful retreat setting, we will gather to tell our stories through words, movement and vocalizing, have fun and be refreshed as we reflect on the old year and anticipate the new. An incredibly joyful and satisfying way to celebrate the turning point from one year to the next. Come for creative play in a community of people who will affirm and applaud you!
Cost:

$280 for lodging and food + donation to leaders for tuition
Registration/Information:

To register, send $100 deposit to 501 W. King St. Hillsborough, NC 27278. Make checks out to Body Wisdom. Contact avivaenoch501@gmail.com

Venue
The Summit Conference Center
Brown Summit, NC 27214
Summit Conference Center is located on 200 wooded acres just 15 minutes north of Greensboro an 25 minutes from the Piedmont Triad International Airport. The main lodge overlooks a six-acres spring-fed lake and there are 5 miles of hiking trails. A boardwalk takes you through the Haw Rivers wetlands, giving you a close encounter with one of North Carolina's most unique ecosystems. Housing options include motel-style rooms for two with private bathroom and dorm housing with shared baths.
Leaders
Ken Miller
Ken Miller was introduced to InterPlay by Tom Henderson and Ginny Going in 2002. Ken accepted their invitation to join Off the Deep End Ensemble as a musician in the group. Ken created beautiful keyboard solos as well as sensitive accompaniment for the group's dance and vocal improvisations. Since retiring in 2009, he has been leading InterPlay for beginners through seasoned InterPlayers. He is known for his masterful storytelling—and for his irrepressible humor. Ken is also the creator of the Interplay form "The Banana Song".