Joyful Deep Dive to Apply the Tools & Princiiples of InterPlay to YOUR Life!
InterPlay Life Practice Program - Ann Arbor, MI - 2020
Assisted by Lee Edwards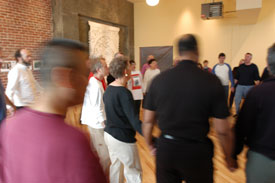 Ann Arbor, MI
Four weekends: June 5-7, July 10-12, August 7-9, Sept 11-13
Fridays 7:00 - 9:00 pm, Saturdays: 9:00 - 5:00, Sundays: 9:00 - 12:30
The InterPlay Life Practice Program is an active, creative way to change your life and change your world.
• Unlock the wisdom of your body!
• Have more fun!
• Decrease stress and increase ease.
• Make wiser, more grounded decisions.
• Thrive by getting body, mind, heart and spirit to all work together.
• Find easy ways to change what you want to change in your life: relationships, work, community, home, spirit, body image…
• Discover your hidden resources.
Immerse yourself in the system of InterPlay—ideas and practices that can move you from where you are to where you would like to be. Find your freedom through movement, story, sound, and stillness in a process that values ease, affirmation, and incrementality.
You will be meeting regularly over a period of time with a group of fellow InterPlayers. You may use this supportive, affirming community to help you shape your life in ways that are best for you. You will get individual attention from the program leaders who will help you identify your personal desires and intentions.
Although some previous experience with InterPlay is encouraged, there are no prerequisites for taking part in the InterPlay Life Practice Program.

The Elements of the Life Practice Program
• The Secrets of InterPlay, a multiple-day retreat from April 30-May 3, 2020, where you will be immersed in the InterPlay philosophy and practice.
• A series of four weekends with your Life Practice Program group for play, presentation, discernment, and interaction, where you will have a chance to explore new creative possibilities in a supportive community.
• Three focus sessions during which you receive personal support from the program leaders to get more of what you want.
• Reading and writing assignments which will help you apply InterPlay insights to your own life.
• A Self-Study of several of the elements of the InterPlay system that will give you a more in-depth understanding of how InterPlay works.

Repeating the Program
Anyone who has previously completed the Secrets of InterPlay are eligible for the $1,000 repeaters rate.
Financial Assistance
Diversity is a great gift in the InterPlay experience. Based on our commitment to Racial Equity and Transformation (read our statement here...) and our understanding of other structural and personal inequalities that exist; Body Wisdom is committed to making our programs financially accessible. Financial considerations need not be a barrier to your participation. Financial support and flexible payment plans are available. Please feel free to speak to one of the leaders of this program or to one of the InterPlay staff in the Body Wisdom office (510/465-2797 or info@interplay.org).
Continuing Education Credit
50 CE credits (Life Practice Program) and 15 CE credits (Secrets of InterPlay) for various healthcare and allied healthcare professions are available for those practicing throughout the U.S. and for educators only practicing in Illinois. CE pre-registration is required at least 2 weeks before the start of your event. Notify the Body Wisdom office (510) 465-2797 at the time of registration that you are requesting CEUs. A fee of $25 per program will be due at the time you register. CEUs are offered through Continuing Education Institute of Illinois.

Cost:

$2,250/$1,000 for repeaters
Registration/Information:

Body Wisdom office: 510/465-2797 or info@interplay.org or
Or local contact (for info only): Lee Edwards, 231-774-6146, Leeriver@umich.edu

Venue
Zion Lutheran Church
1501 West Liberty
Ann Arbor, MI 48103
Zion Lutheran Church is located at 1501 W. Liberty Street in Ann Arbor, Michigan. Parking for visitors is located at the North entrance around the circular drive. Additional parking is available at the East and South entrances.
Leaders
Lisa Laing
Lisa Laing is a Certified InterPlay Master Leader, fitness professional and Certified Cancer Wellness Specialist. She incorporates the practices and forms of InterPlay in each of these aspects of her career. Lisa has brought InterPlay to incarcerated women at York Correction Facility in CT, interdenominational clergy groups, as well as students at The Juilliard School, Yale Divinity School and Southern CT State U. Lisa co- developed and co-leads an ongoing cancer wellness group, Hope Is Power, very much informed by InterPlay. Lisa co-leads the InterPlay Life Practice Program and Secrets of InterPlay in the northeast with both Katrina Browne and CC King and is an InterPlay Leader Training Mentor. She currently serves on the InterPlay Body Wisdom Board. "I am blessed to be a part of this world-wide community of creators, instigators, healers, nurturers, adventurers, huggers, grace-operatives, activists, artists; InterPlayers All!"