Dive Deep Into the Tools & Principles of InterPlay
Secrets of InterPlay 2020
Assisted by Lee Edwards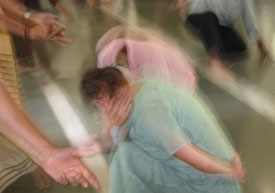 Sturgis, MI
Thursday April 30 at 7:00 pm through
Sunday May 3, 2020 at noon
Learn how you can use the tools and ideas of InterPlay to unlock the wisdom of your body. Get your body, mind, heart, and spirit all on the same page. Learn about yourself through connection and community. Create more ease and fun in your life.
This multiple-day event will give you direct experience in many aspects of the InterPlay system. It is also an important element of the InterPlay Life Practice Program in Ann Arbor, MI, starting in May 2020.
Reduced Tuition Options
Anyone who has previously completed the Secrets of InterPlay may repeat it at a reduced tuition. Based on InterPlay's commitments to build transformational communities of practice, people of color, millennials, full-time artist-activists, and undergraduate and graduate/professional students are eligible for the $300 repeaters rate.
Continuing Education Credit
15 CE credits for various healthcare and allied healthcare professions are available for those practicing throughout the U.S. and for educators only practicing in Illinois. CE pre-registration is required at least 2 weeks before the start of your event. Notify the Body Wisdom office (510) 465-2797 at the time of registration that you are requesting CEUs. A fee of $25 per program will be due at the time you register. CEUs are offered through Continuing Education Institute of Illinois.


Cost:

$400 tuition ($300 for repeaters) + room and board. Tuition included in full Life Practice Program. PLEASE NOTE: After April 1, tuition goes up $50.
Registration/Information:

Body Wisdom 510-465-2797, info@interplay.org,
Or local contact (for info only): Lee Edwards, 231-774-6146, Leeriver@umich.edu

Venue
Amigo Centre
26455 Banker Road
Sturgis, MI 49091
Welcome to Amigo Centre, a retreat and recreation center for members of the Indiana-Michigan Mennonite Conference congregations, their friends and the wider community. Amigo provides a unique environment where we gather to listen and share, play and worship, enjoy nature, creation and community. Situated on over 400 acres of woodland, marsh and lake, Amigo has a diverse, nearly untouched, ecosystem that is just waiting to be explored. Amigo is blessed with a diverse natural setting, and when you go hiking on our trails you have the privilege of experiencing the beauty of several ecosystems no matter which loop you choose to hike.
Leaders
Lisa Laing
Lisa Laing is a Certified InterPlay Master Leader, fitness professional and Certified Cancer Wellness Specialist. She incorporates the practices and forms of InterPlay in each of these aspects of her career. Lisa has brought InterPlay to incarcerated women at York Correction Facility in CT, interdenominational clergy groups, as well as students at The Juilliard School, Yale Divinity School and Southern CT State U. Lisa co- developed and co-leads an ongoing cancer wellness group, Hope Is Power, very much informed by InterPlay. Lisa co-leads the InterPlay Life Practice Program and Secrets of InterPlay in the northeast with both Katrina Browne and CC King and is an InterPlay Leader Training Mentor. She currently serves on the InterPlay Body Wisdom Board. "I am blessed to be a part of this world-wide community of creators, instigators, healers, nurturers, adventurers, huggers, grace-operatives, activists, artists; InterPlayers All!"