First Friday Monthly Playshop
Darlene Kucken
and
Lorrie Streifel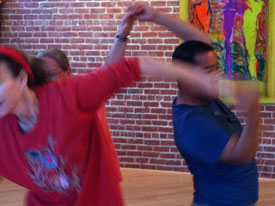 Asheville, NC
Friday, 6:30 pm - 8:30 pm
No prior experience needed. The first Friday monthly playgroup is led by a rotating group of Nationally Certified InterPlay leaders with occasional Internationally based guest leaders. We explore the basic InterPlay forms of Voice, Story telling and Movement in simple, incremental, safe and fun ways. Come try out InterPlay and tap into the wisdom of your body. InterPlay is multicultural, intergenerational, gender empowering, and interfaith. We play with our own unique ethnicity, spirituality, geography, learning styles, orientation, economics, gifts and challenges. We play with those who are different, side-by-side, one at a time, walking, stopping and running. We sing, dance, babble, show and tell our stories to each other as witnesses. No one can do it wrong! Please join us! And bring a friend! Go to InterPlay Asheville Facebook page or visit www.interplayasheville.org for more information. InterPlay is One Way to Change Our World!
Cost:

$10 - $20 sliding scale
Registration/Information:

Darlene Kucken at 919/623/7037

Venue
Training Center studio at Town and Mountain Realty
261 Asheland Ave.
Asheville, NC 28801
Directions: 261 is on the corner of Asheland Ave (becomes McDowell) and Pfifer St (becomes Southside), just south of Asheville's downtown. Town and Mountain's "Training Center" studio entrance is behind the building, accessed from either side. You can find it either by turning into the parking lot off of Asheland (building has "261" prominently displayed), park, and walk up a flight of metal stairs behind and to the right of the building, OR enter the first driveway on the right off of Phifer. Park and walk along the far wall on long "ramp" leading to the studio door. This entrance is fully accessible with no stairs. Map available on location webpage. Bathrooms, lounge, and kitchen with refridgerator and stove are connected to the studio.
Leaders
Darlene Kucken
Darlene has been exploring InterPlay forms and practices for about 13 years (give or take) and has definitely had her life enhanced by these practices. You would never know she used to be an introverted wall flower! After just a short time doing InterPlay she came to realize how much her energy made a difference in a room of people. So there's no telling what difference her Big Body Spirit could make on the planet if she just let it shine! She now improvises her Life (quite well, thank you) using the learned tools, forms and practices of InterPlay. She attributes her playfulness to InterPlay, and also her quest for deeper meaning in her life and the life of the community she surrounds herself with. She witnesses how much InterPlay can bring out the most in those that bring a willingness of spirit to the InterPlay practices.