REGISTER NOW!
Asheville's InterPlay Spring Play schedule change! May 3 - 4
InterPlay Spring Play!
Darlene Kucken
and
Lorrie Streifel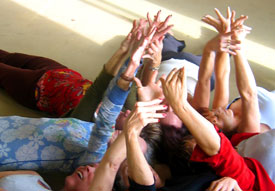 Asheville, NC
Friday to Saturday, May 3-4
Due to several schedule conflicts, Asheville's annual Untensive schedule, name and costs have changed. Please read below information closely! Join your spirit with other creative beings and luxuriate in a community experience of movement, story, voice and stillness – set in the beautiful blooming mountains of Asheville. Friday, May 3: 6:30 pm (gathering) and InterPlay begins 7:15 - 9:00 pm Saturday, May 4: 10:00 am - 9:00 pm Sunday, May 5: Wander the city or the mountains on your own with an InterPlay friend! Entire Event for a mere suggested donation of $90 - $120 sliding scale! Friday night only: $10-20 Saturday morning or afternoon sessions: $45 each Saturday evening performance jam by donation. This is a non-residential event (some barter or homestay opportunities may be possible). You want to be part of this expansive experience! Join in the Fun! We gather at the lovely historic Cathedral of All Souls Church, 2 Angle St. in Biltmore Village. The church is within minutes of downtown and close to many restaurants, shops and hotels. For questions about registration, general questions, or possible barter or homestay opportunities: contact Darlene at 919-623-7037 or by email at waterdeva@gmail.com Everyone must register in advance.
Cost:

$90- $120 sliding scale
Registration/Information:

Darlene Kucken at 919/623/7037

Leaders

Darlene Kucken

Darlene has been exploring InterPlay forms and practices for about 13 years (give or take) and has definitely had her life enhanced by these practices. You would never know she used to be an introverted wall flower! After just a short time doing InterPlay she came to realize how much her energy made a difference in a room of people. So there's no telling what difference her Big Body Spirit could make on the planet if she just let it shine! She now improvises her Life (quite well, thank you) using the learned tools, forms and practices of InterPlay. She attributes her playfulness to InterPlay, and also her quest for deeper meaning in her life and the life of the community she surrounds herself with. She witnesses how much InterPlay can bring out the most in those that bring a willingness of spirit to the InterPlay practices.