Ensouled: Blessed Initiations and Instructions for Body and Soul
A year long online course for sensitive, spirited bodies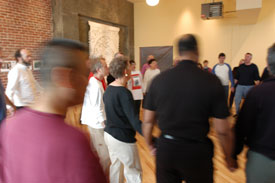 Online, ONLINE
Online according the time you register
To be ensouled is to fully dance one's life in the wise beauty of the cosmos. This is not an individual task. Divine Life, Earth, and people must initiate us into our exact role in the dance. Body, mind, heart, and soul are all key.
Rooted in InterPlay, and unlocking the wisdom of the body, in this 12-month course, I guide you through a curriculum of practices that orient you to the sacred body wisdom needed to function and make a difference in this world. Rooted in InterPlay's body wisdom and birthright practices, each month I'll share with you written material and a video. If you choose you can also meet with me personally or in a small group. Small groups are forming now.
For more on this course go to my website.
Cost:

185 for monthy curriculum, 360 for curriculum with four private sessions. or 55.00 each month for small group coacing.
Registration/Information:

Cynthia Winton-Henry at cynthia@interplay.org

Venue
Online
Online, ONLINE
This will be an online event which could originate from anywhere in the world and would be open to anyone around the world.
Leaders
Cynthia Winton-Henry
Cynthia Winton-Henry, co-founder of InterPlay with Phil Porter, has researched "what the body wants" in the arts, in jails, shelters, slums, hospitals, churches, businesses, classrooms, doctoral programs in theology and the arts, and in multicultural education. She develops somatic curriculums to address racism, leadership for the Earth, and spiritual intelligence with an eye to supporting millennials. A featured speaker on the Body Intelligence Summit and a keynoter at conferences, Cynthia is the author of What the Body Wants, Having It All: Body, Mind, Heart & Spirit Together Again at Last, Dance: A Sacred Art: Discovering the Joy of Movement as Spiritual Practice, and Chasing the Dance of Life: A Faith Journey,. Currently writing on Body Wisdom and Social Justice and on "Ensoulment," she coaches leaders seeking spiritual intelligence for our time at cynthiawinton-henry.com.