Relish the joy of creative expression
InterPlay with Kat & Barb at Traverse Wellness Center
Come join us for a uniquely creative and transformational experience!
Kathi (Kat) Brown
and
Barbara Termaat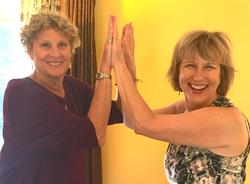 Traverse City, MI
2nd and 4th Saturdays monthly, 11am-1pm
InterPlay uses movement, words, stillness and voice to release stress, increase creativity, and free yourself from the confines of "rules," while cultivating meaningful community connections.
Cost:

FREE first time, 3 sessions for $40, $15 drop-in for 2-hour session
Registration/Information:

Register at www.facebook.com

Venue
Traverse Wellness Center
2785 Garfield Rd, N, #C
Traverse City, MI 49686
Across from McLain's Bicycles, Located behind Flash Studio building--look for red flag roadside and go to end of driveway to park. The studio is upstairs. Dress comfortably, wear socks or indoor-only shoes--or barefoot!
Leaders
Barbara Termaat
Lifelong lover of freeform dancing, former bellydancer and spirit dancer, now discovering the well of creativity hidden beneath years of being "responsible". My history as a teacher and coach is blending well as I develop my leader practice. I found the Life Practice program to be incredibly rich and helpful in processing a major life change. So blessed to have found InterPlay.