Delving... into Aspects of Ourselves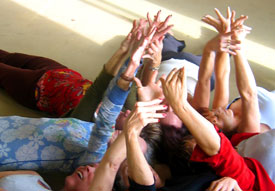 Washington, DC
Saturday October 19, 10am to 4:30pm
We all have different characters within us: parts that serve us well and parts that may seem to get in our way. InterPlay helps us raise many voices and notice our own body wisdom and internal authority. During this exploratory session we will use InterPlay forms to delve deeper into some of our different selves and get to know a few. We may chose to name our different aspects, sing our own songs, hear our own stories and find the movements that inspire us. No past InterPlay experience is needed. Just bring your whole selves.
Cost:

$60 - $75, as you are able.
Registration/Information:

ccking.interplay@gmail.com for info. Register: Mail check payable to InterPlay DC, to Peter Kent (Treasurer), 6827 4th Street NW, DC 20012

Leaders

CC King

CC King is a certified InterPlay Leader and trainer, Boston-area coordinator and a memory play specialist. She has been practicing the joyous unfolding of Interplay for almost 20 years. CC is an expressive therapist, visual artist, teacher and community activist. As the co-founder of a local arts and environment program, she facilitates workshops in organic sculpture and organizes public performance. Play with elders and Memory Cafes are a special interest, as are cancer support and racial healing & transformation. Her background includes nonprofit management, art and family therapy, trauma-informed InterPlay and a life-long commitment to finding sustenance, creative activism, and joy in the natural world.