Sankofa Communities, Embracing Yesterday, Creating Tomorrow
a weekend of events towards embodied racial healing and justice
Katrina Browne
,
Jennifer Denning
, and
Carolyn Renée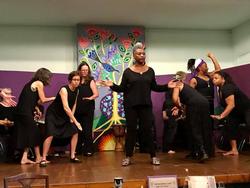 Atlanta, Georgia
Friday, November 9th, 6:30-9 P.M., Saturday, November 10th, 10 A.M.-4 P.M., Sunday, November 11th, 1 P.M.-4 P.M.
A weekend of events towards embodied racial healing and justice!
Join us for all or part of this powerful weekend.
Friday, November 9th
Traces of the Trade: A Story from the Deep North
A Documentary film screening and Community Dialogue with filmmaker, Katrina Browne . The film is about her family, and New England's complicity in the slave trade/slavery, and about present-day reckoning. (Traces of the Trade received recognition from Sundance, 2008, PBS/POV, 2008, Emmy Award nomination, 2009)
6:30 P.M.-reception with light refreshments
7:00 P.M.- program begins
Saturday, November 10th
Moving Through
An interactive InterPlay workshop towards embodied racial healing and justice facilitated by Katrina Browne, Jennifer Denning, Karimah Dillard and Renée, with neighborhood Black history exhibit researched by the BiRacial History Project.There will be sacred affinity group time for people of color and white people to help deepen the work and build resilience.
10 A.M.-4 P.M.
Sunday, November 11th
Sankofa Communities Soulprint Players Performance
A performance that combines the power of InterPlay, historical facts, and ancient healing ritual to educate, uplift and inspire the community to make positive change.
1 P.M.- light pre-show reception sponsored by the First Existentialist Congregation of Atlanta
2. P.M.- performance followed by community dialogue
Funding made possible by Body Wisdom/InterPlay
Cost for weekend sliding scale $0-50
payments can be made through Eventbrite or via paypal to atlantainterplay@gmail.com
Cost:

Sliding Scale $0-50
Registration/Information:

atlantainterplay@gmail.com

Leaders

Katrina Browne

Katrina is the producer/director of "Traces of the Trade: A Story from the Deep North," an Emmy-nominated documentary (PBS/POV: 2008) that follows her family as they uncover the role of their Rhode Island ancestors – and the North more broadly – in the transatlantic slave trade, and as they grapple with racism and white privilege today. She works as a speaker, facilitator, and trainer in schools, churches, museums, conferences, and workplaces around the U.S. and overseas. She focuses especially on "racialized emotions" and how to engage white folks.

She is excited to be bringing her dancer self together with her race work. She is among the InterPlay leaders who are co-conspiring to use InterPlay tools for racial awareness and healing. Katrina leads whiteness workshops as well as interracial workshops, within an InterPlay framework, and also in collaboration with Afro Flow Yoga, and with the Dance Exchange. Katrina has been a certified InterPlay leader since 1998. She serves on the DC InterPlay board.

Jennifer Denning

Jennifer Denning is the co-founder of InterPlay Atlanta. She launched InterPlay Atlanta's offerings with women in prison and teaches weekly at The Atlanta Pretrial Detention Center. She also regularly leads InterPlay at Trinity House and The Friendship Center. She is an InterPlay Life Practice Program leader and directs Atlanta's InterPlay performance group, Soulprint Players.

Carolyn Renée

Carolyn Renée is a teaching and performing artist, organizer and administrator. She is also former Executive Director of Alternate ROOTS, a nonprofit that supports the creation and presentation of original art rooted in communities of place, tradition or spirit. Since the early 2000s, through her work with Alternate ROOTS, and the Mississippi Arts Commission she worked closely with the nonprofit community and arts organizations throughout the southeast United States and the District of Columbia to organize workshops, learning exchanges, retreats, showcases and member gatherings. Carolyn Renée is a teaching artist with Synchronicity Theatre's "Playmaking For Girls" program. Playmaking for Girls empowers incarcerated girls, refugees, and foster care girls through the medium of play-writing, theatre games, and performance. In 2015, she received funding from The City of Atlanta's Office of Cultural Affairs for her original play, The Mother Daughter Dialogues. Carolyn Renée is a singer, songwriter and storyteller. In the InterPlay organization, she is a Co-Liaison Leader to InterPlay Leaders and People of Color. In May 2017, she served as the lead organizer for the first ever InterPlay People of Color Retreat. Coming from a family of healers, she's a third degree Naturopathic Reiki Master, and offers Reiki certifications throughout the United States in partnership with A Life of Peace Education and Wellness Institute. She uses "Carolyn Renée" as her full name.