InterPlay & Meditation
Time for play, stillness, and rejuvenation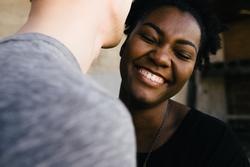 Brooklyn, NY
6:30-8p, select Fridays
All are welcome to join this newly forming InterPlay community in Brooklyn. We will explore stillness, movement, play, mindfulness, storytelling, and more. A guided restorative meditation will be offered to allow time for reflection, absorption, and relaxation.

InterPlay participants are invited to express themselves exactly as they are in the moment and encouraged to release any need to do things perfectly or "right" or to impress others. Through InterPlay's simple activities which are offered in incremental steps, you are invited to unlock the wisdom within yourself.

If you have any questions or comments, please message Lissa, our facilitator extraordinaire, who has a lifetime experience of play, a decade of experience in offering and exploring mindful and experiential movement and meditation practices as well as a strong background in mental health care and offering trauma and culturally-sensitive approaches.

Suggested Donation: $10. No one will be turned away for lack of funds.

Upcoming Meetings:
One Friday per month 6:30-8p at 421 5th Ave, Brooklyn.

For more info & exact dates for meetings, please see https://embodiedheartmind.com/events
Cost:

$10
Registration/Information:

Please email Lissa (see below)

Leaders

Lissa E

Lissa began practicing meditation in 2008, studies in the traditions of Zen and Theravada Buddhism, and identifies practice as a deep form of love and care. Lissa has two 200-hour yoga certifications, a children's yoga teacher certification, a mindfulness teacher certification, and is completing teacher training programs to teach mindful self-compassion as well as to become a certified InterPlay leader. Lissa has over a decade of experience in nursing and mental health and has experience working with people of all ages. Lissa presently shares culturally-informed and trauma-sensitive meditation practices through engagement as a yoga and mindful movement instructor, psychiatric mental health nurse practitioner, sangha (community) facilitator, and mindfulness instructor. Lissa has a deep desire to share embodied meditation practices for the wellness and liberation of all beings and is particularly moved to work with populations less likely to have exposure or access to contemplative practices.