Reclaiming Justice
Self-Care for the Resistance
Natalie Abdou
,
Foluke Beveridge
,
Agnotti Cowie
, and
Christine Gautreaux, MSW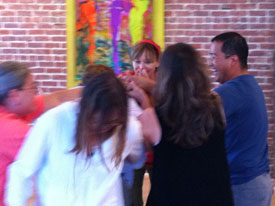 Atlanta, GA
Opening Gathering: Sunday, June 24th at 6 PM
Program dates: June 25-29, 2018 from 9 AM - 5 PM

Are you passionate about your community and collective well-being? Are you feeling overwhelmed and confused by these rapidly changing times? Do you wish you could connect with others and find creative ways to express all you are feeling, thinking and noticing?

Then come join us for a week of connection, play and creation with Interplay. This week-long program for people of all ages and diversities who are community activists, artists, practitioners, healers, social justice-lovin', creative souls and beyond. We will co-create space together for our stories and collective wisdom to be shared. Through the philosophy and practice of Interplay, we will tap into our birthrights of movement, sound, song, story, dance, and stillness - connecting to the wisdom of the body and what it has to tell us about navigating these challenging times with grace, ease, love and creativity.

Our week will include a variety of rich experiences - connecting with local groups and organizations in Atlanta and their creative resistance work, dipping into nature and playing with the wisdom of the wild, playing in different public places and space, and other spontaneous moments where anything is possible (a justice dance parade perhaps?!?). In all this, we will get the chance to explore social justice themes and ideas that are important to us as a collective as we put art into action. We will celebrate our communities, feed our collective imagination and learn what self-care for the resistance feels and looks like. Atlanta, home of The Martin Luther King Jr. Center for Nonviolent Social Change, The National Center for Civil and Human Rights and so much more feels like a perfect place to gather for collective social action.

We welcome the largest spectrum of diversity - across political, social, economic, social boundaries as we appreciate the richness that emerges in the coming together and deep full-body-dialogue of folks and ways in which we walk in and experience the world differently.

Your team of quirky, creative and capable Interplay leaders will include Agnotti Cowie, Foluke Beveridge, Christine Gautreaux, and Natalie Abdou - local and international Interplay leaders who have shared and played in a diversity of community and social justice contexts.

The program is week-long although we have limited 1-day only spaces available for those who are unable to attend the week-long program. Scholarships and sliding scale options available.

Please contact Christine Gautreaux at christinegautreauxmsw@gmail.com or text at 770-256-9191 for registration and details.

We are excited to play with you soon!!
Opening Gathering: Sunday, June 24th at 6 PM
Program dates: June 25-29, 2018 from 9 AM - 5 PM

Cost:

$500 for the week/$125 per day, or what you can afford to pay
Registration/Information:

Christine Gautreaux: christinegautreauxmsw@gmail.com or text at 770-256-9191

Leaders

Natalie Abdou

Interplay Bio I have been on a life-long journey of curiosity and creativity, and have spent the last 10+ years connecting and collaborating with diverse communities, in North America and the Middle East, by co-creating learning environments that are founded upon shared values of diversity, love, respect and self-empowerment - embracing a vision of solidarity, social justice and change from the inside-out. I weave in elements of embodied wisdom, Theatre of the Oppressed and other visual/movement/story arts into my practice and see/feel the arts as portals for personal and collective transformation, providing space for our souls to dance, breathe, heal and unleash the deep wisdom that resides within. That is why my heart exploded with resonance and childlike joy when I came into connection with Interplay in 2015 - since then I have had the gift of mentorship and leadership within the Arts & Social Change program, of mentoring alongside Cathy Ann in the Life Practice Program, and co-creating with Interplay POC community as we explore and better understand the ways in which this diverse unique group body plays. I feel deep gratitude for the way in which Interplay has danced its way into my life bringing with it so many quirks and magic.

Agnotti Cowie

Agnotti Cowie attended the first ever "Art & Social Change: InterPlay for Millennial Leaders" in 2010. Since, she joined InterPlay's national board as well as becoming a certified InterPlay leader. For the past two years, she returned to Oakland as a facilitator of the Art and Social Change training. Agnotti facilitates workshops worldwide employing a variety of pedagogical techniques such as InterPlay, Theatre of the Oppressed, and Devising. Currently she is based in Chicago where she does workshops in schools, organizations and with social movements. Recently, she has taken her work around the globe teaching workshops in Vietnam, India, and Germany.

Christine Gautreaux, MSW

Christine Gautreaux holds a Bachelor's and Master's Degree in Social Work and is dedicated to the pursuit of play, joy, art & social justice. Christine's superpowers include connecting people, helping folks manifest their dreams, standing up against injustice and using art to make a difference in the world. She currently uses performance art, movement, poetry, storytelling and Interplay to address issues of oppression with women who are incarcerated, people living with severe and persistent mental illness and homelessness. She also works with activists and artists to maintain balance and self-care during these intense times we find ourselves living. Christine Gautreaux has professional experience with successful grant writing, community organizing and social media marketing. She is a life coach for caregivers who are burnt out and ready to take back their own life and make it delightful again. She is the co-author of Stillpoint: A Caregivers Playbook to find ease and to take a deep breath and reclaim joy.