Connect with "new" and "already" friends online!
InterPlay Leaders/People of Color Points of Connection
hosted by Carolyn Renée & Masankho Banda
Carolyn Renée
and
Masankho Banda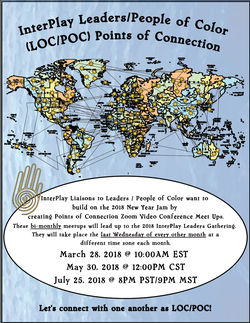 Online, ONLINE
Wednesdays • March 28 at 10 am EST, May 30 at 12 pm CST, July 25 at 8 pm PST/9 pm MST
InterPlay Co-Liaisons to Leaders of Color Carolyn Renée and Masankho Banda invite all InterPlay People of Color and Leaders of Color to join them in one or all of a series of Points of Connection Zoom video conference meet-ups.
These online events will build on the energy of the 2018 New Year Jam and create a place for all to get to know each other, to use the InterPlay forms online and to connect heart to heart. They will lead up to the 2018 InterPlay Leaders Gathering in Pennsylvania in August.
They will take place on the last Wednesday of every other month—March 28 at 10 am EST, May 30 at 12 pm CST and July 25 at 8 pm PST/9 pm MST.
Join from PC, Mac, Linux, iOS or Android: https://zoom.us/j/5104652797.
Cost:

Free
Registration/Information:

Join from PC, Mac, Linux, iOS or Android: https://zoom.us/j/510 4652797

Venue
Online
Online, ONLINE
This will be an online event which could originate from anywhere in the world and would be open to anyone around the world.
Leaders
Carolyn Renée
Carolyn Renée is a teaching and performing artist, organizer and administrator. She is also former Executive Director of Alternate ROOTS, a nonprofit that supports the creation and presentation of original art rooted in communities of place, tradition or spirit. Since the early 2000s, through her work with Alternate ROOTS, and the Mississippi Arts Commission she worked closely with the nonprofit community and arts organizations throughout the southeast United States and the District of Columbia to organize workshops, learning exchanges, retreats, showcases and member gatherings. Carolyn Renée is a teaching artist with Synchronicity Theatre's "Playmaking For Girls" program. Playmaking for Girls empowers incarcerated girls, refugees, and foster care girls through the medium of play-writing, theatre games, and performance. In 2015, she received funding from The City of Atlanta's Office of Cultural Affairs for her original play, The Mother Daughter Dialogues. Carolyn Renée is a singer, songwriter and storyteller. In the InterPlay organization, she is a Co-Liaison Leader to InterPlay Leaders and People of Color. In May 2017, she served as the lead organizer for the first ever InterPlay People of Color Retreat. Coming from a family of healers, she's a third degree Naturopathic Reiki Master, and offers Reiki certifications throughout the United States in partnership with A Life of Peace Education and Wellness Institute. She uses "Carolyn Renée" as her full name.
Masankho Banda
Masankho is a multi - disciplinary Performing Artist, Certified InterPlay Leader, Educator and PeaceBuilder. He brings many unique perspectives to his work around the world. He learned the fine arts of storytelling and dance from his Malawian culture spending many long days and nights listening to stories and dancing to music that captivated his mind, shaped his being, nourished his soul and strengthened his spirit. Using performing arts Masankho motivates and inspires people of all ages to work together to bring about peace, social justice and cultural understanding. In 1997, he started UCanDanc? African Healing Arts to bring his passion for dance and storytelling to communities around the world. Masankho has been a Certified InterPlay Leader since 1999.