InterPlay for Resilience Educators
Uplift Your Self-Care Game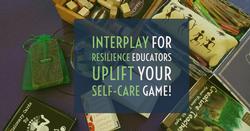 Kansas City, MO
3rd Sunday January through May of 2018 from 3-5pm CST
InterPlay for Resilience Educators is a monthly mindful playshop for professionals who guide others to building their own stress resilience. Do you guide others to deepen their self-awareness, healing journey, self-care and/ or mindfulness? Do you work to inspire others to see and realize their full potential? Are you are teacher, care-giver or healer who offers up learning experiences that are responsive to the needs of those you serve? InterPlay for Resilience Educators is specifically designed to be a mini-self-care retreat for professionals who are serving the public, in an effort to stimulate human growth, development, healing and learning. You might be a school teacher, therapist, social worker, yogi, mindfulness instructor, case manager, mentor or counselor. During this 6 month series you will be invited to incrementally deepen your self-care game through movement, dance, storytelling, singing, stillness and reflection. Each session will be totally unique and offer tangible tools for deepening your personal and professional resilience practice.
Cost:

$20
Registration/Information:

https://www.facebook.com/events/391497377973656/

Venue
Inner Space Yoga
2711 Troost Avenue
Kansas City, MO 64109
Park on either side of the building or on the street. The Troost MAX busline has a stop right across from the building. It's big and turquoise... can't miss it.
Leaders
Beth Sarver
Beth Sarver received her Bachelors in Fine Art with an emphasis in Sculpture and Arts Education and is a certified leader of InterPlay; which is a pedagogy for cultivating mindfulness through creativity, performance and play. A regional trainer in Trauma Informed Care, Trauma Sensitive Schools and Building Resilience Culture, Beth has over 13 years of experience as an artist educator in a wide variety of non-traditional settings including: juvenile detention centers, foster care group homes and fine art studios of all kinds. Beth is also an award winning Youth Mentor for the Juvenile Rehabilitation Administration of Seattle, WA.