Differentiate Between Gifts, Call, and Purpose
Divining One's Purpose with Body Wisdom
There is purpose in your body! Discover it with InterPlay's active, creative approach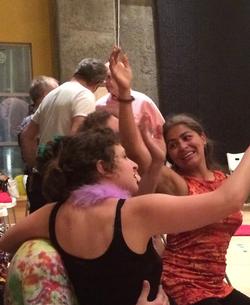 Oakland, CA
Sat Feb 3, 2018 • 10 am – 6 pm
Why are you here? What are you bringing to this time, to this year? To embody purpose in the most joyful way is more symbol than science, more poetry than fact, more we than me, and always filled with surprise.

In this workshop InterPlay co-founder Cynthia Winton-Henry shares the body wisdom of divining purpose that takes people step-by-step to attune to the direction that lives in our very cells.

Participants learn to differentiate between gifts, calls, and purpose. Playing with the What, Who and Where of purpose using Movement, Voice, Story, and Stillness we can:

• gain personal and group clarity from body wisdom
• find the way to increase ease and energy
• invoke your own poetic purpose statement
• acknowledge the challenge and responsibility of purpose
• learn to manifest purpose in ways that uphold joy, affection, and the highest good.

It takes courage to live life fully. Healthy support, tools and community are known to increase our chance of rising. Bring your purpose into community. Let it play!


Cost:

$75
Registration/Information:

info@interplay.org 510-465-2797

Venue
InterPlayce
2273 Telegraph Avenue (at 23rd St.)
Oakland, CA 94612
InterPlayce is the center of the InterPlay universe. The offices for Body Wisdom, Inc. are also located here. The building is at the corner of 23rd and Telegraph, one block north of West Grand. It is just a few blocks from the 19th Street Downtown Oakland BART station, and on several convenient bus lines. On-street parking is always available at night and metered during the day. It is also easily accessible by several of the major freeways.
Click here for a map.
Leaders
Cynthia Winton-Henry
Cynthia Winton-Henry, co-founder of InterPlay with Phil Porter, has researched "what the body wants" in the arts, in jails, shelters, slums, hospitals, churches, businesses, classrooms, doctoral programs in theology and the arts, and in multicultural education. She develops somatic curriculums to address racism, leadership for the Earth, and spiritual intelligence with an eye to supporting millennials. A featured speaker on the Body Intelligence Summit and a keynoter at conferences, Cynthia is the author of What the Body Wants, Having It All: Body, Mind, Heart & Spirit Together Again at Last, Dance: A Sacred Art: Discovering the Joy of Movement as Spiritual Practice, and Chasing the Dance of Life: A Faith Journey,. Currently writing on Body Wisdom and Social Justice and on "Ensoulment," she coaches leaders seeking spiritual intelligence for our time at cynthiawinton-henry.com.