COMMUNITY AND PERSONAL EXPLORATION WITH VOCAL PLAY
The Liberating Voice: 3 Days of Events in DC
InterPlay Australia cofounder ignites three days of vocal joy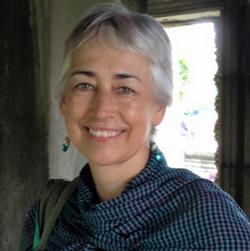 Washington, DC
Oct 13-15, 2017 Fri 1-4 pm, Sat 10 am -4:30 pm, Sun 12:30-4:30pm
Fri Oct 13
1-4 pm The Moving Voice Workshop
Small group session 4-6 people
Sat Oct 14
10 am - 4:30 pm Voice Voice Voice!
Explore vocal InterPlay scaffoldings for creatingsongs, ditties, harmonies and rhythm ostinatos/patterns. Then, lean into vocal freedom to play, release and open to the gifts of life.
Sun Oct 15
12:30 - 4:30 pm Wild & Tamed
Explore a myriad of character voices within. We will seek out the jungles and sanctuaries of our lives to uncover mysterious, mischievous and shy characters who inhabit our creative landscapes.
Cost:

Fri: $60, Sat: $70 Sun: $65 / Sat & Sun: $120
Registration/Information:

Kate Amoss 301/219-1223 or katamoss@gmail.com

Leaders

Trish Watts

A singer, songwriter, and educator with over 35 years experience as a performer, animator and creative arts facilitator in Australia and overseas. Co-founder of InterPlay Australia, she has completed studies in Voice Movement Therapy in the US. Trish has published over 8 collections of original music. She has been Music Director for both the Sydney and Cambodia Threshold Choirs, groups that sing at the bedsides of those struggling to live and die. She offers workshops and retreats in singing, creativity, spirituality and body wisdom. For more info see the

International Association for Voice Movement Therapy

,

InterPlay Australia Association

, and in the US: www.Interplay.org