Unlock the Wisdom of your body!
Secrets of InterPlay in Michigan
An active, creative way to change your life.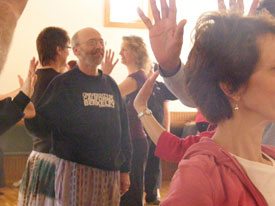 Sturgis, MI
March 22 -25, 2018
Thursday 7:00 pm - Sunday 1:00 pm
Learn how you can use the tools and ideas of InterPlay to unlock the wisdom of your body. Get your body, mind, heart, and spirit all on the same page. Learn more about yourself through connection and community. Create more ease and fun in your life. This multiple-day event will give you direct experience in many aspects of the InterPlay system developed by Cynthia Winton-Henry and Phil Porter over the last 28 years.
Continuing Education Credit
15 CE credits for various healthcare and allied healthcare professions are available for those practicing throughout the U.S. CE preregistration deadline is no later than 2 weeks before the start of your event. Notify Body Wisdom staff at time of registration that you are requesting CEUs. Indicate the profession (E.g. LCSW) and the state you have your license in (E.g. MI). A CE fee of $15 will be due once your profession and state are approved. CEUs are offered through
Continuing Education Institute of Illinois.
It is also an important element of the InterPlay Life Practice Program
which will be offered in Chicago, IL starting in April, 2018...
OR
Ann Arbor, Michigan starting in April, 2018..
Schedule
Thursday starts with soup at 6pm, First session is 7–9 pm
Friday-Saturday TBA
Sunday 10:00 am brunch 11:00 am-1pm closing session
Repeating the Program
Anyone who has taken the Secrets of InterPlay, the Life Practice Program or a previous version of those programs, can repeat this event and the Life Practice Program at a significant discount.
And...
At the same time and location, InterPlay co-founder Phil Porter will be leading an InterPlay Untensive.
Cost:

$350 tuition/$400 after 2/20; $225 double room & board; $195 triple+ room & board
Registration/Information:

Deadline: March 7, 2018 /Body Wisdom Office @ 510/465-2797

Venue
Amigo Centre
26455 Banker Road
Sturgis, MI 49091
Welcome to Amigo Centre, a retreat and recreation center for members of the Indiana-Michigan Mennonite Conference congregations, their friends and the wider community. Amigo provides a unique environment where we gather to listen and share, play and worship, enjoy nature, creation and community. Situated on over 400 acres of woodland, marsh and lake, Amigo has a diverse, nearly untouched, ecosystem that is just waiting to be explored. Amigo is blessed with a diverse natural setting, and when you go hiking on our trails you have the privilege of experiencing the beauty of several ecosystems no matter which loop you choose to hike.
Leaders
Cynthia Winton-Henry
Cynthia Winton-Henry, co-founder of InterPlay with Phil Porter, has researched "what the body wants" in the arts, in jails, shelters, slums, hospitals, churches, businesses, classrooms, doctoral programs in theology and the arts, and in multicultural education. She develops somatic curriculums to address racism, leadership for the Earth, and spiritual intelligence with an eye to supporting millennials. A featured speaker on the Body Intelligence Summit and a keynoter at conferences, Cynthia is the author of What the Body Wants, Having It All: Body, Mind, Heart & Spirit Together Again at Last, Dance: A Sacred Art: Discovering the Joy of Movement as Spiritual Practice, and Chasing the Dance of Life: A Faith Journey,. Currently writing on Body Wisdom and Social Justice and on "Ensoulment," she coaches leaders seeking spiritual intelligence for our time at cynthiawinton-henry.com.