Relax, Laugh, and Come Alive in Community Though Play!
InterPlay Vallejo
Trust, Value and Express Yourself
Jeanette Logan
,
Susan Main
,
June Goudey
, and
Cindy Pile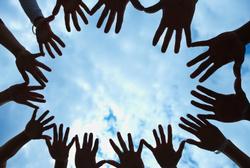 Vallejo, CA
4th Sundays, 2-3:30pm, ongoing
Join us to relieve stress, open your joy and creativity! You don't even have to think of yourself as creative. You can easily learn that part with simple, incremental "forms" that lead us to movement and stories, silence and song, ease and amusement. In the process, we often discover wisdom in ourselves and in our communities. Stay light, go deep, whatever feels right to you. InterPlay is devoted to fun. It teaches the language and ethic of play in a deep and powerful way. If you are convinced that seriousness is the path to inner wisdom, then you might want to look elsewhere. If you would like to become a "recovering serious person," then InterPlay might be for you! Unshackle your creativity, free of judgment, full of fun!
Cost:

$10-$20 Sliding Scale, no one turned away for lack of funds.
Registration/Information:

Contact Jeanette Logan for Info at 707/567-1396.

Venue
The Dance Shop
145 H Valle Vista Ave.
Vallejo, CA 94590
There is plenty of parking on Saturdays at this location. This is a row of businesses right next to the Valle Vista Car Wash. Turn into the driveway and go about 3/4 way down. There is a big DANCE SHOP sign on top of what looks like a garage door.
Leaders
Jeanette Logan
Since 1994, Jeanette has been running her own business, Youthful Hearts: Fitness Classes and Coaching after 50! (Strength, Flexibility, Balance, and Aliveness for Your Body, Mind, Heart & Spirit.) She is certified in Group Fitness Instruction, Natural Wellness, EFT (Emotional Freedom Techniques), and InterPlay and holds her BA in Theatre Arts. She enthusiastically works with health-minded groups and individuals who desire to feel better and live better so they can more fully enjoy their older years! Jeanette's primary purpose is to be free to play and create and to help improve humanity in the process.
Susan Main
Susan Main has her BA in Dance and Theater from UC Santa Cruz and has been leading InterPlay and performing with Wing It! Performance Ensemble since 1995. Her leading experience includes Interplay Camp, New Years Eve Retreats, Untensives, Monday women's group, monthly Deepening and the Leadership Program. She infuses InterPlay into her 12-step recovery work, nature play, tap dancing, dance teaching, attitude and life. Her specialty: creating a safe and playful haven for creativity and truth...wit and laughter.
June Goudey
Retired United Church of Christ Minister. Author of The Feast of Our Lives: Re-Imagining Communion (available for download at https://www.academia.edu/ ) Currently co-leading Interplay Vallejo with Susan Main and and Jeanette Logan.