Shake loose! Release stress! Find joy!
InterPlay at Peace Tree Yoga
Open up to new possibilities of thinking & being in the world!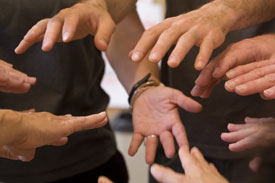 Burlington, WI
Next dates/times TBD Stay tuned!!
DATES TBA Friday 6:30-8:30 pm Community Play offers an introduction to InterPlay®—an active creative process for personal & community transformation. Through practical ideas and a system of practices rooted in storytelling, movement & sound; we gain access to our own "body wisdom" ~ what works best for us, what gives us purpose, what makes us feel fully alive. Saturday 10:00 am –12:30pm & 2:00-4:30 pm Wisdom of the Body ~ Deep Play If you are looking for nourishment, support & attention, this is the place to be. These sessions are designed for ample warm up, reflection and moving into deeper play through more noticing, witnessing, savoring and exploring InterPlay's body wisdom forms and tools. To request a workshop weekend please contact: Peace Tree Yoga at yogadonna@me.com or 262/758-0658
Cost:

Workshop fees: Pre-paid Friday & Saturday $75, Friday only--$25, Saturday am $35, Saturday afternoon $35.
Registration/Information:

To request a weekend InterPlay Workshop contact: Peace Tree Yoga at yogadonna@me.com or 262/758-0658

Leaders

Jane Siarny

Jane Siarny is dedicated to uplifting the human spirit through creativity, community building, and body-wise practices. For me, InterPlay opens the door to an integrated spiritual practice that allows for freedom and growth. Throughout my dance career and yoga teaching I have found InterPlay to be the one practice where I can express all of myself; body, mind, heart and spirit. The Online Dance Chapel is one of the best ways for me to consistently share the transformative power of InterPlay. Jane also is the InterPlay Life Practice Program Coordinator, has led numerous Life Practice groups since 1999, and is a Mentor & Facilitator in the InterPlay Leader Training Program. Jane's story can be found in MOVE: What the Body Wants by InterPlay co-creators Cynthia Winton-Henry with Phil Porter.