Get hold of your money life!
InterPlay Experts: Money Wisdom
Practical ideas and tools to move toward financial health.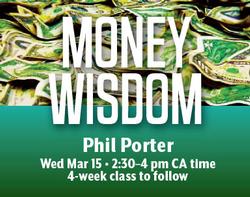 Online, ONLINE
Wednesday, March 15, 2017 • 2:30–4 pm CA time • additional 4-class series March 22 & 29 & April 5 & 12
As part of the "InterPlay Experts" online class series, InterPlay co-founder Phil Porter will present "Money Wisdom," a body-wise approach to understanding our relationship to all things financial.
Money is usually a taboo subject. Because of that, our personal money practices can be shrouded in mystery, laced with denial and include ineffective or even harmful practice.
What would happen if we applied some of the ideas and practices that InterPlay has to offer to our money-lives? What if we bring our money information more into the open? What if we were to identify short-term and long-term practices that would help us to achieve peace or stability around money? What if we had the support of others to do what we needed to do? What if we took advantage of the subjectivity of money rather than being taken advantage of? What if we could do that without taking the subject or ourselves too seriously and with as little judgment as possible?
Phil will present some concrete money-related ideas and practices to consider, based on his own experience and from teaching many classes on Money Wisdom over the years. The session will be mostly presentational, with prompts for personal reflection. It will deal with spending, saving, short-term and long-term financial issues, personal practice and money history.
This one-session event will be followed by a four-week class that will continue with these themes and also include activity, storytelling, group interaction and support for your own questions and goals. Participants will also be encouraged each week to identify concrete actions they might take to enhance their money-lives.
The classes will take place on Wednesdays from 2:30–4 pm California time and will use the Zoom online platform.
The four-week class will be limited to 10 participants.
You may sign up only for the first session or enroll in the whole series. The first session is $30. The four-week session is $200.
Save $40! Sign up for all five sessions in advance for $190.
Cost:

$30 for first session/$200 for the four-week class/$190 for all five sessions if you register before March 14.
Registration/Information:

Register online above or call 510/465-2797. Instructions for online access will be sent one week before the series beings.

Venue
Online
Online, ONLINE
This will be an online event which could originate from anywhere in the world and would be open to anyone around the world.
Leaders
Phil Porter
Phil is one of the founders of InterPlay. He is a teacher, performer, writer, and organizer. With Cynthia Winton-Henry he is the co-founder of WING IT! Performance Ensemble, and has written several books, some in collaboration with Cynthia, including Having It All: Body, Mind, Heart & Spirit Together Again at Last and The Slightly Mad Rantings of a Body Intellectual Part One. Phil is particularly interested in the use of InterPlay in organizational life, and believes that InterPlay can be a powerful tool to create communities of diversity and peace.