Lead an Embodied Life
Pittsburgh and Cleveland Life Practice Program
Sheila K Collins
and
Lois McClendon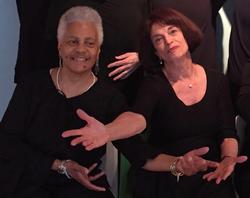 Pittsburgh, PA
Fridays 7 pm – Sundays noon • May 5–7, July 7–9, Sept 8–10, Nov 10–12, 2017
Assisted by Ruth Garwood and Donna Mazzola
Learn the techniques and body wisdom principles of InterPlay. This four-weekend program is designed for anyone from eastern Ohio to western Pennsylvania and will take place in three locations (see below).
Learn to lead your life in a more embodied, playful way. Reclaim voice, movement, stillness, and stories as primary ways of knowing. Ground yourself in a communal ethic of play to replace stress with health, creativity, joy, and purpose. Learn from InterPlay Master Teacher, Sheila K. Collins, and Toni McClendon.
Deepen the practice of honoring body wisdom in yourself and in your community. This workshop is open to anyone desiring an in-depth experience of InterPlay (there is no prerequisite). This Life Practice Program begins with the Secrets of InterPlay being offered at Villa Maria in March.
The Life Practice is the prerequisite to becoming a certified leader through the InterPlay Leader Training Program.
Locations
May 5–7 River Dance Studio, 130 Chapel Harbor Drive, Pittsburgh, PA 15238
July 7–9 Villa Maria Conference Center, 2067 Evergreen Street, Villa Maria, PA 16155 (near Youngstown, OH)
Sept 8–10 Sacred Arts Holistic Center, 3148 West Boulevard, Cleveland, OH 44111
Nov 10–12 Villa Maria
Cost:

$2150 tuition; room and board estimate $665; work-study options available
Registration/Information:

Body Wisdom Office 510/465-2797 or info@interplay.org and Sheila K Collins 817/706-4967

Venue
River Dance Studio
130 Chapel Harbor Dr.
Pittsburgh, PA 15238
Building is in a new complex on the Allegeheny River. Parking is on the street.
Leaders
Sheila K Collins
Sheila K. Collins
is the director of InterPlay Pittsburgh and the
Wing & A Prayer Pittsburgh Players
, an InterPlay-based performance troupe that assists human service agencies in accomplishing their noble purposes. A former professional dancer, Sheila describes herself as a "dancing social worker," since she has taught social work and co-founded and directed a behavioral health care clinic in Texas.
Sheila is the author of Stillpoint: The Dance of Selfcaring, Selfhealing and Warrior Mother: Fierce Love, Unbearable Loss and the Rituals That Heal. She's been known to travel the country enlisting InterPlayers to help her Perform The Book, demonstrating how InterPlay tools help us get through life's ordinary and extraordinary, "tough stuff."
Lois McClendon
Lois "Toni" McClendon is a Storyteller in the Oral Tradition, a peace & social justice activist. She is a graduate of the InterPlay Life Practice Program and a Certified InterPlay teacher, often found drumming with ABAFASI, a woman's drumming group, and teaching InterPlay at local libraries and community-based organizations. Toni is also a Life Practice Program Leader.