Wherever you are in the world, here is a spacious group practice
InterPlay as Spiritual Practice Free Online Dance Chapel:
A place to hold sacred the WIsdom of the Body
Nancy Pfaltzgraf
,
Cynthia Winton-Henry
, and
Jane Siarny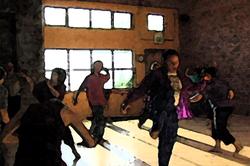 Online, ONLINE
Monday 5pm PST or Thursday 9:30am PST
In need of prayer, community, or support?

Do you wonder if InterPlay could be a spiritual practice? Do you need to move to pray? Come lean into this Hidden Monastery of the Heart for an hour. Light a candle.
Things you can expect
Warm up your dancing spirit.
invoke intentions for family, community, and world. 
Notice your body wisdom: move, share and integrate it.
Reboot grace and gratitude for your week.
Hear and share poetry and music.
Dance on behalf of others in the group.
Connect to others in the group and receive additional resources.
Note: This group is managed by Cynthia Winton-Henry, not Body Wisdom Inc. For her work focusing on body and soul go to cynthiawinton-henry.com
.
Cost:

Free to Try: Suggested donation $25-$49/month through http://cynthiawinton-henry.com/product/monthly-dance-your-prayers/
Registration/Information:

Cynthia Winton-Henry at cynthia@interplay.org

Venue
Online
Online, ONLINE
This will be an online event which could originate from anywhere in the world and would be open to anyone around the world.
Leaders
Nancy Pfaltzgraf
Nancy Pfaltzgraf has been joyfully leading InterPlay classes and retreats in local and national settings since 2006. Having discovered InterPlay and the Life Practice Program helped her discover ease and joy in her professional life as the pastor of progressive Christian congregations. Her experience as an RN and a Hospice Chaplain has also given her a unique perspective on the way InterPlay can relieve stress and empower people in the helping professions to live and work with more grace and ease. Since leaving pastoral ministry it has been her delight to continue to offer her gifts through Body Wisdom - Deep Play groups for helping professionals, Retreats and Untensives, InterPlay Life Practice programs, Online Body Wisdom Tools classes, online classes and untentsives focusing on the Move to Greatness wisdom and an Online Interfaith Dance Chapel. Nancy holds coaching certification using the FEBI® [Focused Energy Balance Inventory] and Appreciative Inquiry and delights in both one-to-one and group Soul Coaching. Although her home base is in the Chicagoland area, her mastery of online communication forms allows her to serve people wherever they are. All this allows her to fulfill her life mission to "lead with love, follow with trust and dance with joy with those ready to step into the life-giving rhythms of grace".,
Cynthia Winton-Henry
Cynthia Winton-Henry, co-founder of InterPlay with Phil Porter, has researched "what the body wants" in the arts, in jails, shelters, slums, hospitals, churches, businesses, classrooms, doctoral programs in theology and the arts, and in multicultural education. She develops somatic curriculums to address racism, leadership for the Earth, and spiritual intelligence with an eye to supporting millennials. A featured speaker on the Body Intelligence Summit and a keynoter at conferences, Cynthia is the author of What the Body Wants, Having It All: Body, Mind, Heart & Spirit Together Again at Last; Dance - A Sacred Art: Discovering the Joy of Movement as Spiritual Practice; and Chasing the Dance of Life: A Faith Journey. Currently writing on Body Wisdom and Social Justice and on "Ensoulment," she coaches leaders seeking spiritual intelligence for our time at cynthiawinton-henry.com.
Jane Siarny
Jane Siarny, MFA, Master InterPlay® Leader, Certified Yoga Teacher, is dedicated to uplifting the human spirit through creativity, community building and body-wise practices. Her training and inspiration draws from classical ballet & modern dance, improvisation, singing, poetry, yoga and InterPlay. Jane is the InterPlay Life Practice Program Coordinator and has led numerous Life Practice groups since 1999. She also is a trainer in the InterPlay Leader Training Program. She is happy to have discovered InterPlay's therapeutic, community building approach to celebrating the spiritual wisdom of the body. From 1994-2004 she was co-director of the InterPlay based OUTABOUNDS Performance Company, performing and teaching throughout the U.S. Jane's story can be found in MOVE: What the Body Wants by InterPlay co-creators Cynthia Winton-Henry with Phil Porter.