North Bay InterPlay
Play and Connect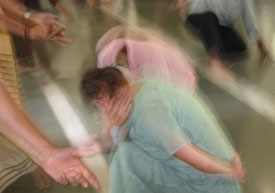 Santa Rosa, CA
TBA
Join us for some fun and playfulness! Judy will surely make it all happen!
Bring a friend.
We're transitioning to a Play Group in Santa Rosa - stay tuned for location, dates and times.
We look forward to seeing you!
For questions please call, Diane Chira, 678-231-9035
Cost:

Free
Registration/Information:

678/231-9035 Diane Chira

Leaders

Judy Shook

In Cynthia Winton-Henry's words, "Judy is a gifted spiritual leader who has put it all together and helps individuals and groups do the same. She brings both powerful joy and practical wisdom to her life and work." A spiritual leader, Judy combines art, poetry, sacred dance, singing, creative ritual, and storytelling to enable people in new ways of relating with each other and the Divine. Shook is a graduate of Matthew Fox's Institute of Creation Spirituality and an ordained United Methodist minister. As of July 1, 2011, Shook is the pastor at Ukiah United Methodist Church. She has been leading Interplay workshops, classes and retreats since 1995.