Secrets Of InterPlay in DC
Kate Amoss
and
Billy Amoss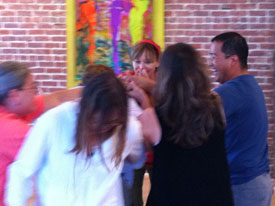 Washington, DC
Thursday, October 25, 2012 at 7pm through Sunday October 28, 2012 at 1pm
Learn how you can use the tools and ideas of InterPlay to unlock the wisdom of your body. Get your body, mind, heart and spirit all on the same page. Learn more about yourself through connection and community. Create more ease and fun in your life. This multiple-day event will give you direct experience in many aspects of the InterPlay system. It is also an important element of the InterPlay Life Practice Program offered in the Washington DC area. An extra fee of $40 will cover the cost of renting our lovely space.
Cost:

$350 tuition ($250 for repeaters) plus $40 rental costs
Registration/Information:

info@interplay.org -- for questions: Kate at interplaydc@yahoo.com or Billy at bamoss@rostropovich.org

Leaders
Kate Amoss
Kate Amoss, LCPC, is a weaver, InterPlay master teacher, and professional counselor in private practice. She has an unshakable faith in the power of the imagination to transform, delight, and liberate. She uses applied InterPlay with clients in groups, workshops, and individually. Together with her husband, Billy, she co-leads the InterPlay Life Practice program in the Washington DC.
Billy Amoss
Billy Amoss is a certified InterPlay leader in the Washington, D.C. area, where he and his wife Kate lead the Life Practice Program. Billy is the Executive Director of the Rostropovich Foundation, a DC-based non-profit organization that finances and manages international children's health programs.