InterPlay Leader Training Program
Teaching Practicum Raleigh 2019
Ginny Going
,
Thomas Henderson
, and
Carolyn Renée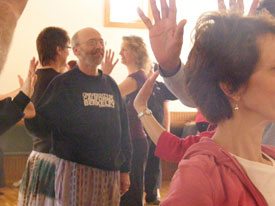 Raleigh, NC
3 days May 16-18, 2019,
Thursday evening thru Saturday afternoon
The InterPlay Teaching Practicum is a core component of the InterPlay Leader Training Program. It is for InterPlay leaders-in-training who have enrolled in the Leader Training Program and attended a Secrets of Leading InterPlay. Previously certified InterPlay leaders may also attend (see below).

The Practicum is a multi-day workshop that includes practice teaching by participants with self-evaluation and feedback from leaders and other participants, information on best practices in designing and leading InterPlay events, and teaching resources such as sample class outlines.

Note: Before attending the Practicum, participants must complete 8 of the Self-Study Core Elements and record their completion on the InterPlay website Leaders Circle form. Access to the Leaders Circle form will have been provided at the Secrets of Leading InterPlay. For questions about this requirement, contact the InterPlay office, info@interplay.org or 510-465-2797.

Repeating the Program

Previously certified InterPlay leaders (regardless of when they completed InterPlay leader training) receive a reduced tuition of $1,000 for the entire Program or $350 each for the Secrets of Leading, the Teaching Practicum or the Mentored Teaching component. Certified leaders are encouraged to attend this Teaching Practicum to gain new information and resources to enhance their teaching and update their leading skills. They will also receive information and resources related to the Racial Equity and Transformation initiative that is being brought into all aspects of InterPlay life and practice.

Schedule

Thursday • 7-9:30 pm
Friday • 9 am-5:30 pm with lunch break
Saturday • 9 am-4 pm with lunch break

This is a non-residential event. A limited number of homestays may be available for out-of-town participants as well as hotel/motel options. For housing options, contact Ginny Going at colleagues.interplay@gmail.com


The Teaching Practicum is included in the tuition for the Leader Training Program. A payment of $400 toward the total tuition is due by the time of this event. The Practicum is open to previously certified InterPlay leaders at a reduced tuition of $350.

Continuing Education Credit
15 CE Credits for various healthcare and allied healthcare professions are available for those practicing throughout the U.S and educators only practicing in Illinois. CE preregistration is required at least 2 weeks before the start of your event. Notify the Body Wisdom office (510) 465-2797 at the time of registration that you are requesting CEUs. A CE fee of $25 per program will be due at the time you register. CEUs are offered through Continuing Education Institute of Illinois.


Cost:

$400 payment toward Leader Training Program tuition due before this event. $350 for previously certified leaders
Registration/Information:

510/465-2797 or info@interplay.org

Leaders

Ginny Going

As a recovering serious person, I consider InterPlay my 12-step program and my life practice for having more ease and grace. I've worn a variety of vocational hats in my life and currently describe myself as a community artist, bodyspirit mentor and InterPlay leader. I love offering people the "big body" tools of InterPlay for telling their stories, especially people on the margins of our communities. I am also passionate about embodied spirituality, engaging people in prayer and worship forms that include and honor the body through movement, stories and song. With my partner and husband Tom Henderson, I teach and lead retreats in a variety of settings.

Thomas Henderson

Tom is a certified InterPlay leader, community artist, organization development consultant and retired pharmaceutical chemist. With his wife, Ginny Going, he is co-owner of Colleagues, a business dedicated to enabling individuals and organizations to thrive. Ginny and Tom also co-directed the Interplay performance company Off the Deep End Ensemble for 15 years beginning in 1997.

Carolyn Renée

Carolyn Renée is a teaching and performing artist, InterPlay Leader, organizer and administrator. She serves humanity as an organizer, teaching artist and InterPlay Leader. Since 2006 she has been a teaching artist with Synchronicity Theatre's "Playmaking For Girls" (PFG) program that empowers incarcerated girls, refugees, and young women in foster care through play-writing, storytelling, and theater performances. Carolyn Renée has written two plays, one of which she received funding from Atlanta Mayor's Office of Cultural Affairs. In InterPlay, an organization that is committed to using the art of InterPlay; an art-based system to tap into the wisdom of the body and promote well-being, she has produced community showcases, taught homeless men and women, and organized racial equity and transformation workshops. She serves as a Co-Liaison Leader to InterPlay Leaders and People of Color. In May 2017, Carolyn Renée served as the lead organizer for the national InterPlay organization's first ever People of Color Retreat. She solidified her art and activist roots in her former roles as Arts Program Director with the Mississippi Arts Commission, and Executive Director of Alternate ROOTS, a nonprofit art and social change organization for artists-activists. For a decade her work with Alternate ROOTS, and the Mississippi Arts Commission afforded her the opportunity to work closely with social change artists, art producers and presenters; the nonprofit arts community, and a myriad of arts organizations throughout the southeast United States and the District of Columbia. Serving in an organizing role she helped create undoing racism workshops, mini-festivals, learning exchanges, retreats, showcases and conferences. In September 2018, she served as advisor to the Atlanta venue of the 50,000 Lions of Justice Festival in support of youth performers for more than 50,000 youth audience participants in nine states throughout the USA. Carolyn Renée believes the work of community organizing is like riding a bicycle, or swimming—once you know how you just never forget how to create superb opportunities for connection. She uses "Carolyn Renée" as her full name.