New Years Retreat at Ghost Ranch
The Restoration of Joy
a contemplative journey through the alchemy of play
Marla Durden
and
TraceyJoy Miller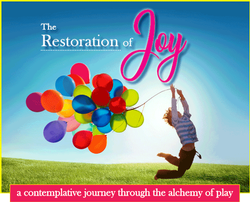 Abiquiu, NM
December 29, 2019 - January 2, 2020. (Beginning with dinner on December 29th, through evening session on January 1st. Departing January 2nd)
Come rest, play and mindfully journey over the threshold of the New Year claiming your 2020 Joy! Remember What's important, set intentions and enjoy the natural splendor of Ghost Ranch. Return home refreshed, impsired and deeply embodying your Joy.
More information about this retreat is available on the Ghost Ranch Website:
To go to Ghost Ranch Website
Click Here.
If you have any questions, feel free to contact Marla Durden or TraceyJoy Miller.
Cost:

$495 - $1,065 Dependent on occupancy.
Registration/Information:
Click Here.
Venue
Ghost Ranch
Abiquiu, NM
Leaders
Marla Durden
Marla came to InterPlay at the end of 2016 and has never stopped playing. She immediately began performing and is currently a leader-in-training. Marla is an alchemist, artist, entrepreneur and coach who uses her gifts to create products and experiences that support personal empowerment, healing and transformation. Marla produces and facilitates monthly education-focused calls for 2 self-development focused global communities; consults with companies and organizations in brand development and manages several brands of her own.
TraceyJoy Miller
TraceyJoy has been InterPlaying since 1999. She discovered InterPlay in the Twin Cities, spent 3 years in Oakland where she trained as an InterPlay Leader, and has been playing in the Seattle area since 2011. Since her 20's she has studied and applied a variety of approaches to accessing the wisdom of her body and healing. And, she loves supporting others to do the same. She spent many years committed to working on herself; working to become "good enough". Thankfully InterPlay has brought a balance of levity, playfulness, and community to her life long, sincere explorations as a human being. She considers herself a "Recovering Serious Person".