Reap the Harvest of Play for Equinox!
Equinox Celebratory Class Open to All Genders
Annie Goglia
and
Amos Alan Lans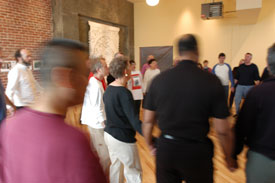 Oakland, CA
September 19th, Thursday, 7:00-8:30 p.m.
Imagine finding Balance through playful contact, easy movement, and wild noises!
We'll play with balance and imbalance, tell some stories true & false, and tune into our inner voice.
This is our quarterly "All Genders Welcome" class (during the usual time slot for our weekly men's class)-- a special chance to connect with a broad range of InterPlayers.
Annie Goglia (co-leader of the weekly women's class) and Amos Lans (men's class co-leader) will lead this evening together.
Cost:

$15 for drop-ins, or use class card
Registration/Information:

Amos Lans, 510/282-4746

Venue
InterPlayce
2273 Telegraph Avenue (at 23rd St.)
Oakland, CA 94612
InterPlayce is the center of the InterPlay universe. The offices for Body Wisdom, Inc. are also located here. The building is at the corner of 23rd and Telegraph, one block north of West Grand. It is just a few blocks from the 19th Street Downtown Oakland BART station, and on several convenient bus lines. On-street parking is always available at night and metered during the day. It is also easily accessible by several of the major freeways.
Click here for a map.
Leaders
Annie Goglia
Annie Goglia joyfully completed the Interplay Leader Training Program in Spring 2009. Annie coordinates and often leads the InterPlay Women's Class on Monday morning. Her business--LIfeFire--includes Lighten Up Your LIfe workshops in which Annie skillfully weaves in InterPlay, Laughter Yoga and her coaching background. She has lead the Oakland LifeFire Laughter Yoga Meetup since 2007. In 2004 she completed her training at New Ventures West Coaching Program. Annie, a Master of Arts in Teaching, is an experienced workshop leader, with 20 years in the human service field and as a peer counselor.
Amos Alan Lans
Amos Alan Lans likes to tell folks, "I became a dancer in my 50's, thanks to InterPlay!" Amos is one of the three co-leaders of the Thursday evening men's drop-in class. He loves introducing InterPlay to groups of men, especially gay men, especially older gay men who are learning new ways of enjoying being in their ageing bodies as well as playful ways of connecting with other guys. Letting stories emerge from movement is one of Amos' favorite InterPlay activities. For 20+ years, Amos set up and taught in public school gardening programs. He now teaches the joys of composting, gardening, and healthy eating to at-risk urban youth in North Oakland's Dover Street Edible Park, near his home on 61st Street.