Summer beckons our fullest selves to emerge
Midsummer Body Wisdom Retreat for Women, Trans and GNC Folks
Let us slow down, celebrate and play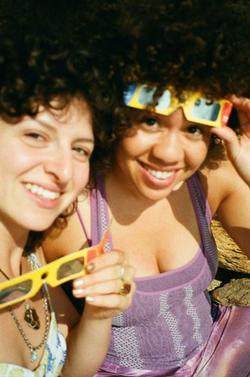 Oakland, CA
Saturday, July 27 10 a.m. to 4 p.m. Sunday, July 28 10 a.m. to 2 p.m.
Once upon a time, ... there was the simple understanding that to sing at dawn and to sing at dusk was to heal the world through joy. The birds still remember what we have forgotten, that the world is meant to be celebrated.
--Terry Tempest Williams
Can we let ourselves be as full and radiant as the July sun? Can we guide our bodies to repose like a waning crescent moon? Can we stretch and reach for the good like a ripening tomato? Can we let all our layers unfold like a fragrant peony? Can we enjoy moments of play like iridescent dragonflies zipping across a lake?


The summer season invites fullness. Its long days welcome a steady hum of producing, creating and connecting. Amid this, can we also find time to pause, reflect and give thanks to celebrate the season and its richness through all our senses? Let us attune to the clues nature offers to remind ourselves of the many ways we can radiate all of who we are. Our phenomenal world shows us that it doesn't have to look or be any kind of way other than what is inherently true for us from moment to moment.
In this midsummer urban retreat, we will move our bodies and welcome stillness and play. We will lift our voices to make noise like wild things and we will have time for reflection and quiet.
Can we savor the sweetness of summer and spit out the seeds that no longer serve us, like the juiciest watermelon of our dreams?
If you're shy, "not a dancer" or the word "play" makes you nervous, we especially extend an invitation to you. Please join us and discover how good it feels to be in a space that only requires that you be yourself.
During and after class you will experience: • Practical tools for connecting to your body's wisdom • A more resilient connection between your mind, body and spirit • Satisfying, accessible experiences of self-expression • A time for play, fun and reflection • Music that you can't not move to!
About our registration policy (full transparency moment about our approach):
For this class we are prioritizing the juiciness of experience for those parts of our identities that are most targeted in today's western culture. Because of the patterns and norms that we exist inside of, regardless of everyone's best intentions when a group is half or more comprised of white-identified people it can tip the space towards a more whiteness-centered culture. This is no one's fault but it does disproportionately impact the experience of people of color.
For this reason we are experimenting with a registration policy with the intention of reserving a portion (at least 60%) of spots for people of color.
Thank you for your participation in this experiment!
• Registration is open to all women, trans and gender-nonconforming people until
July 15th, 2019
• After July 15th, registration is only open to people of color. White folks are still welcome to apply - they will be placed on a waitlist and offered a spot depending on our overall ratios in the order in which they applied. • The
final RSVP deadline is July 25th.
Register here...
Accessibility info:
This workshop is at InterPlayce, the home of InterPlay. Yay! The space is wheelchair accessible, with all activities happening at ground floor. To support the space, please don't use any fragrances or scented products.
Cost:

Sliding scale: $150-$200 (some scholarships available)
Registration/Information:

Use the link above to register.

Venue
InterPlayce
2273 Telegraph Avenue (at 23rd St.)
Oakland, CA 94612
InterPlayce is the center of the InterPlay universe. The offices for Body Wisdom, Inc. are also located here. The building is at the corner of 23rd and Telegraph, one block north of West Grand. It is just a few blocks from the 19th Street Downtown Oakland BART station, and on several convenient bus lines. On-street parking is always available at night and metered during the day. It is also easily accessible by several of the major freeways.
Click here for a map.
Leaders
Kelsey Blackwell
Kelsey Blackwell is a writer, facilitator and coach working at the intersections of social justice, spiritual practice and creative expression. She is devoted to creating a more just, fair and inclusive society by bringing somatic practices into diversity, equity and inclusion work in schools, cooperate offices and at nonprofits. Her writing has been published in Ebony, Southern Living, Cooking Light and The Arrow: A Journal of Wakeful Society. She holds a Master's degree in Magazine publishing from the Medill School of Journalism at Northwestern University. She's also a Certified InterPlay Leader, on InterPlay's Racial Equity and Transformation Committee and a graduate of Karuna Training, a two-year training in contemplative psychology. Follow her writing and hear about upcoming workshops at kelseyblackwell.com.