Playing, singing, moving, telling stories: Creating together
InterPlay Europe Annual Untensive & then a Leader's Gathering
'Sneaky Deep' International playtime!
Mairi Campbell
,
Meg MacLeod
,
Bernhard Staudt
, and
Sophia van Ruth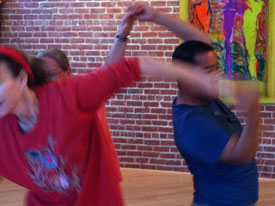 Holten, Netherlands
UNTENSIVE: Fri: Open 4:00pm, Dinner: 6:00pm, first session 7:00pm
Saturday: Full day and evening program
Sunday: Full morning program and lunch, event ends at 2:00pm.

LEADER GATHERING
Evening June 23 to morning Thurs. June 27
You may come to either the Untensive or the Gathering of both!
UNTENSIVE
Join us at a weekend where playful souls connect together with movement, voice, story and stillness. Step by step, we'll offer simple activities and tools to facilitate play, release, connection and expression. You will be invited into an affirming culture where we explore, respond and create together in the moment.
Your hosts for the weekend will be European InterPlay Leaders Collective. For 5 years now we have been working together on a Europe-wide level and we collectively run an annual event as a chance for our communities to play together across borders. We are a multicultural team with a range of strengths and experience – so you can look forward to a weekend of live music, fun and reflection to feed the soul.
Leaders for the 2019 untensive are:
Bernhard Staudt (Germany) Meg MacLeod (Netherlands/USA) Sophia van Ruth (Netherlands/Australia) Mairi Campbell (Scotland)
LEADER GATHERING
Open to participants or grads of the InterPlay Life Practice Program, Leader Training Program, Millennials training or Online Tools course.
Sunday evening June 23 you can arrive for interPlay Leader Gathering. The program runs officially from Monday morning to Wednesday evening, but you may stay the night before and after if you want to.
The Leader Gathering is collaboratively led by InterPlay leaders and leaders-in-training. On the Monday morning we co-create the program for our time together, based on what individuals would like to lead, would like to be lead in, or would like to do during our time together.
Your home for both events will be 'De Dieken', a friendly retreat space in Holten, just near Deventer in the Netherlands. Bordering a national park, this restful location will also provide opportunities for walking and 'hanging' in nature.
Language: The workshop will be in English with German and Dutch translations as needed.
Questions?
For questions in German contact Annegret Zander annegret.zander@yahoo.de or +49 171 977181. For questions in English or Dutch contact Sophia van Ruth: sophia@animatearts.net.
To REGISTER and for more information
Places are limited to 14 registrants, please register soon!
For more information on the UNTENSIVE and to register
follow this link
.
For more information on the LEADERS' GATHERING and to register
follow this link
.
Cost:

For the UNTENSIVE: €260 to €350.. For the GATHERING: No tuition fee. Housing/food fee is determined when we know the number of participants.
Registration/Information:

See registration info and links above

Venue
De Dieken
Herberg De Dieken Helhuizerweg 1
Holten, 7451 KE
The venue is a beautiful, serene center which borders a national forest. It is about a 2-hour train trip from Amsterdam, Netherlands Schiphol airport and then about a 35-minute walk from the Holton train station. Or you can arrange ahead of time for a car pickup or taxi.