A powerful part of the InterPlay Practice
Your Four Movement Energies: Move into Greatness
Access and Focus Your Power to Swing, Thrust, Hang, Shape.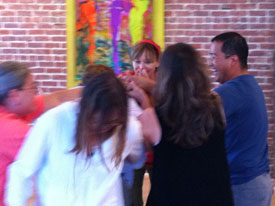 Oakland, CA
Four Fridays Feb 1,8,15, 22 10:30-12
In these four Friday morning groups, we will play with Moving into Greatness. Using the wisdom of the primary movement patterns of Swing, Thrust, Hang, and Shape we will find the center of each pattern in our body and learn to call it on when we need it. Learn why I put the patterns in this order (for myself).
Feb 1 Swing (Collaborate)—the world as co-mentoring: playing with the collage of relational creativity
Feb 8 Thrust (Drive)–Engaging the world: with focused intent and persistent, empowered joy.
Feb 15 Hang (Visionary)– in flow with the world: at-one, expansive, spacious, grounded, and hopeful.
Feb 22 Shape (Organizer)–creating the world as art: designed, ordered, seen, and blessed.
Move to Greatness: Focusing the Four Essential Energies of a Whole and Balanced Leader
Cost:

$48 for a 4-class card, $15 one time drop in, $90 for 10 class card
Registration/Information:

InterPlay office at 510-465-2797 or info@interplay.org

Venue
InterPlayce
2273 Telegraph Avenue (at 23rd St.)
Oakland, CA 94612
InterPlayce is the center of the InterPlay universe. The offices for Body Wisdom, Inc. are also located here. The building is at the corner of 23rd and Telegraph, one block north of West Grand. It is just a few blocks from the 19th Street Downtown Oakland BART station, and on several convenient bus lines. On-street parking is always available at night and metered during the day. It is also easily accessible by several of the major freeways.
Click here for a map.
Leaders
Cynthia Winton-Henry
Cynthia Winton-Henry, co-founder of InterPlay with Phil Porter, has researched "what the body wants" in the arts, in jails, shelters, slums, hospitals, churches, businesses, classrooms, doctoral programs in theology and the arts, and in multicultural education. She develops somatic curriculums to address racism, leadership for the Earth, and spiritual intelligence with an eye to supporting millennials. A featured speaker on the Body Intelligence Summit and a keynoter at conferences, Cynthia is the author of What the Body Wants, Having It All: Body, Mind, Heart & Spirit Together Again at Last, Dance: A Sacred Art: Discovering the Joy of Movement as Spiritual Practice, and Chasing the Dance of Life: A Faith Journey,. Currently writing on Body Wisdom and Social Justice and on "Ensoulment," she coaches leaders seeking spiritual intelligence for our time at cynthiawinton-henry.com.