InterPlay Preconference, Keynote and other incredible offerings
Rise Up! The Evolution and Revolution of Expressive Arts
InterPlay at the 13th International Expressive Arts Therapy Association Conference
Phil Porter
and
Cynthia Winton-Henry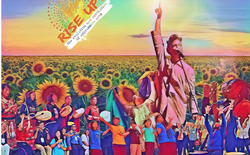 Berkeley, CA
Feb 28 preconference–March 1-March 3 conference
REGISTER BY DECEMBER 10TH TO GET THE LOWEST RATES!

Rise Up
is a call-to-action for us in the expressive arts field to build bridges and strengthen our collaborative efforts across race, culture, nationality, citizenship status, sexual orientation, abilities, and gender to hold the collective's longing for wholeness. The focus of this conference is rooted in the current moment's call to action. These are days filled with soul-searching on a personal, interpersonal, and societal level. Conference themes center on growth, change, inclusion, visibility, and lifting each other up to elevate the work of expressive arts in healing.
InterPlay cofounders Phil Porter and Cynthia Winton-Henry join expert keynote presenters, collaborative panels and plenary workshops in a conference that addresses therapists, teachers, artists, social workers, psychologists, social service agency workers, politicians, social justice advocates, anyone interested in creating a more ethical, healthy and socially conscious community.
Attend the full day Pre-conference on InterPlay for Art and Social Change
Learn how InterPlay leaders who are committed to racial equity and transformation bring the body wisdom and birthright practices of movement story, sound, and stillness back into common spaces– boardrooms, classrooms, hospitals, family life, academia, shelters, community performance, therapeutic contexts, education, and spiritual practice. Explore InterPlay as a global network with go-to practices and ready community when you need to reboot happiness, health, and the wisdom of the group body.
Cost:

multiple price options
Registration/Information:

Register through IEATA registration@ieata.org or go to https://ieataconference.org/register/

Venue
Hilton DoubleTree Hotel Berkeley Marina
200 Marina Blvd., Berkeley, California
Berkeley, CA 94710
Right on the bay! Link here for google map. https://goo.gl/maps/1yinosRDPMJ2
Leaders
Phil Porter
Phil is one of the founders of InterPlay. He is a teacher, performer, writer, and organizer. With Cynthia Winton-Henry he is the co-founder of WING IT! Performance Ensemble, and has written several books, some in collaboration with Cynthia, including Having It All: Body, Mind, Heart & Spirit Together Again at Last and The Slightly Mad Rantings of a Body Intellectual Part One. Phil is particularly interested in the use of InterPlay in organizational life, and believes that InterPlay can be a powerful tool to create communities of diversity and peace.
Cynthia Winton-Henry
Cynthia Winton-Henry, co-founder of InterPlay with Phil Porter, has researched "what the body wants" in the arts, in jails, shelters, slums, hospitals, churches, businesses, classrooms, doctoral programs in theology and the arts, and in multicultural education. She develops somatic curriculums to address racism, leadership for the Earth, and spiritual intelligence with an eye to supporting millennials. A featured speaker on the Body Intelligence Summit and a keynoter at conferences, Cynthia is the author of What the Body Wants, Having It All: Body, Mind, Heart & Spirit Together Again at Last, Dance: A Sacred Art: Discovering the Joy of Movement as Spiritual Practice, and Chasing the Dance of Life: A Faith Journey,. Currently writing on Body Wisdom and Social Justice and on "Ensoulment," she coaches leaders seeking spiritual intelligence for our time at cynthiawinton-henry.com.