Connect to the wisdom of your body
InterPlay Fundamentals with Annie Rose & Kelsey
A Playful Embodiment Tool For Daily Life and Leadership
Kelsey Blackwell
,
Annie-Rose London
, and
Kira Allen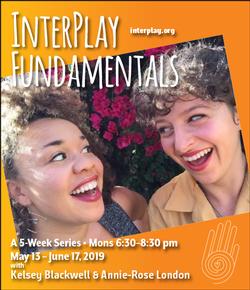 Oakland, CA
Mondays, 6:30 to 8:30 p.m. (May 13 – June 17)
Given the wild success of this intro series in January, Kelsey and Annie Rose have decided to offer it again! Whether this would be your first time InterPlaying with them or your fifth, each class is a unique experience centered on
improv practices that nourish creativity and support the authentic self to emerge.
This series will be a time for deepening in the InterPlay tools, exploring how to bring them into daily life, prioritizing playfulness and calling forth silliness.
Join us as we practice tools for cultivating more ease, flow and joy in our lives and beyond. In addition to supporting personal wellbeing, the InterPlay system offers playful practices that support interpersonal relationships, healthy group dynamics and embodied leadership. Take these tools into your work, life, activism and facilitation.

This series will support participants to: • Connect more deeply with the wisdom of the body • Drop out of the head and into the present moment • Discover hidden resources for navigating uncertainty and doubt • Learn a joyful form of creative improvisation • Make wiser, more grounded decisions • Practice synchronizing mind and body • Name and claim more joy, freedom and expression

This class is open to anyone who wants to develop and deepen practices for more embodied living. In particular, we're creating space for artists, activists, teachers, social workers, therapists, LGBTQ+ folks, PoC, healers and spiritual leaders.

To Sign Up: Visit our Google form. Here, you'll also find intructions for submitting payment.

Accessibility info: This workshop is at InterPlayce, the home of InterPlay. Yay! The space is wheelchair accessible, with all activities happening at ground floor.

To support the space, please don't use any fragrances or scented products.

Join our Facebook Group for more info and to hear about more class offerings.


Cost:

$100 per person or $150 for you and a friend (that $75 each or 25 percent off)
Registration/Information:

Annie Rose London: annie.rose.london@gmail.com; Kelsey Blackwell: kelseyblackwell22@gmail.com

Venue
InterPlayce
2273 Telegraph Avenue (at 23rd St.)
Oakland, CA 94612
InterPlayce is the center of the InterPlay universe. The offices for Body Wisdom, Inc. are also located here. The building is at the corner of 23rd and Telegraph, one block north of West Grand. It is just a few blocks from the 19th Street Downtown Oakland BART station, and on several convenient bus lines. On-street parking is always available at night and metered during the day. It is also easily accessible by several of the major freeways.
Click here for a map.
Leaders
Kelsey Blackwell
Kelsey Blackwell is a writer, facilitator and coach working at the intersections of social justice, spiritual practice and creative expression. She is devoted to creating a more just, fair and inclusive society by bringing somatic practices into diversity, equity and inclusion work in schools, cooperate offices and at nonprofits. Her writing has been published in Ebony, Southern Living, Cooking Light and The Arrow: A Journal of Wakeful Society. She holds a Master's degree in Magazine publishing from the Medill School of Journalism at Northwestern University. She's also a Certified InterPlay Leader, on InterPlay's Racial Equity and Transformation Committee and a graduate of Karuna Training, a two-year training in contemplative psychology. Follow her writing and hear about upcoming workshops at kelseyblackwell.com.
Annie-Rose London
Annie-Rose London is a social artist who seeks to create raucous experiences of joy and pleasure to counteract systems of oppressive mind control. She draws together the fields of ecological design, community arts, and social justice through facilitation and performance. Her earnest irreverence is inherited from a lineage of Jewish and Queer healers. She has called herself a performance artist, a clown, a ritualist, an educator, an activist – today she calls herself happy to meet you. She has served as the executive director of Berrett-Koehler Foundation and currently facilitates leadership development and creative practice in partnership with InterPlay, The Arts and Social Change Jam, and Earth Activist Training Social Permaculture Trainings.
Kira Allen
This Oakland based author, artist, activist, advocate, facilitator and InterPlay leader holds an M.A. in Transformative Arts from John F. Kennedy University, and a B.A. in English/Creative Writing from Mills College. Finding her own voice through poetry and artistic expression inspires her work with students from age 4 to 74 in classrooms, homeless shelters, churches, non-profits and intimate circles inside people's homes Ms. Kira delivers phenomenal workshops and performances to empower her community. Her poetic memoir, Write This Second, was published in April of 2015.