The world needs the wisdom of our inner child
Cultivating Connection with Our Inner Child
A Time For Movement and Creative Expression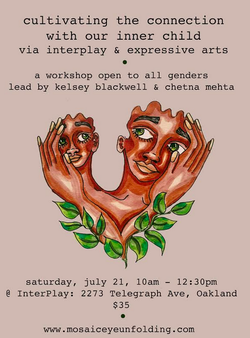 Oakland, CA
July 21, 10 a.m. to 12:30 p.m.
Ya'll it is a crazy time in our world.
Let us call on our inner child wisdom to help us navigate. Our inner child reminds us how to move with all of our fullness, they know how to look at old things in new and creative ways, they can help us get out of our heads and into the current moment.
We need our inner child wisdom to help us in our current societal landscape.
This workshop will incorporate mindfulness practices with expressive visual arts tools and the practice of InterPlay, a body wisdom practice using movement, storytelling and song.
Join us to experience:
A safely held place to show up, reflect, play and be held by others in community
Guided meditation and playful movement
Supplies for visual art expression
Space for personal and collective visualization and reflection
Open to all genders, all accessibility and experience levels are welcome.
This workshop is co-facilitated by Chetna Mehta
Chetna is a mixed media artist, founder of mosaiceye, and mental wellness mystic impassioned by merging psychological healing with spirituality and the arts. Her work is rooted in self-actualization and interconnection. She creates to realize, heal and grow parts of self and others, and to remember our intrinsic divine connectedness with one another, the planet and a universal Force beyond any ideology. With a recently completed Master's in counseling psychology from the Wright Institute in Berkeley, she's bringing arts and self-reflective workshops to communities around the country.
Cost:

$35
Registration/Information:

Register Online Here: https://www.mosaiceyeunfolding.com/events/2018/innerchildoakland

Venue
InterPlayce
2273 Telegraph Avenue (at 23rd St.)
Oakland, CA 94612
InterPlayce is the center of the InterPlay universe. The offices for Body Wisdom, Inc. are also located here. The building is at the corner of 23rd and Telegraph, one block north of West Grand. It is just a few blocks from the 19th Street Downtown Oakland BART station, and on several convenient bus lines. On-street parking is always available at night and metered during the day. It is also easily accessible by several of the major freeways.
Click here for a map.
Leaders
Kelsey Blackwell
Kelsey Blackwell is a writer, facilitator and coach working at the intersections of social justice, spiritual practice and creative expression. She is devoted to creating a more just, fair and inclusive society by bringing somatic practices into diversity, equity and inclusion work in schools, cooperate offices and at nonprofits. Her writing has been published in Ebony, Southern Living, Cooking Light and The Arrow: A Journal of Wakeful Society. She holds a Master's degree in Magazine publishing from the Medill School of Journalism at Northwestern University. She's also a Certified InterPlay Leader, on InterPlay's Racial Equity and Transformation Committee and a graduate of Karuna Training, a two-year training in contemplative psychology. Follow her writing and hear about upcoming workshops at kelseyblackwell.com.