Sing, Dance, Tell Stories, Connect and Be!
Good Times IX Summer InterPlay Camp
Celebrate InterPlay Seattle's 25th Birthday!
CathyAnn Beaty
and
Ingrid Hurlen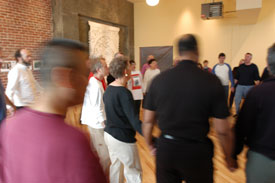 Vashon Island, WA
Thursday, August 30th (Check in begins at 4pm Dinner at 5:30 pm) through Saturday, Sept. 1st 4:00 pm
Our Five Basic Birthrights
.... to move, to have our voice, to tell our story, to connect with community and to be! This is the stuff of InterPlay.
Join us as we dance and sing and tell... On Behalf Of Our Beloved Community.
Includes Live Music by Eric Chappelle!
Cost:

$300 ($250 before July 15th) Tuition plus Room and Board ($275 Triple or $325 Double)
Registration/Information:

Sharie Bowman at interplaynorthwest@gmail.com

Venue
Camp Burton
9326 SW Bayview Drive
Vashon Island, WA 98070
Leaders
CathyAnn Beaty
CathyAnn Beaty, MDiv, is a master InterPlay leader, dancer and visual artist. She has been working with ongoing groups of therapists, clergy and other helping professionals for the past 12 years through her business SoulPlay, www.soulplay.org and has developed new approaches to healing based both on her professional and personal experience. CathyAnn is an ordained minister and began her InterPlay journey in 1989 when serving as pastor at Spirit of the Lakes UCC. She got her Masters of Divinity at United Theological Seminary of the Twin Cities in 1984 and did her Clinical Pastoral Education at Hennipen County Medical Center in Minneapolis. She served three parishes over 15 years. CathyAnn leads the InterPlay Life Practice Program, The InterPlay Way, performance workshops, couples classes, mentors leaders in training and directs SoulPlay Performance Ensemble. She has taught InterPlay in India, Australia and around the United States.
Ingrid Hurlen
Ingrid Hurlen is a Certified InterPlay Leader (since 1997) and Creative Dance teacher/workshop facilitator. She has a BA in Drama from Lone Mountain College. With InterPlay Seattle founder, Krista Harris, she co-led two InterPlay leadership programs and co-led two Life Practice Programs with Sharie Bowman. She has trained with the Dance for PD program at the Mark Morris Dance Center, using movement and storytelling with elders with mobility issues. After re-locating to New Mexico, she teaches parent/child and preschool creative dance classes at the Railyard Performance Center, Dragonfly School and The Santa Fe School for the Arts and Sciences. She is also an experienced dance and theater performer. She produced the 2000 Seattle "Unbelievable Beauty of Being Human" concert with Wing It! Performance Ensemble and over 40 InterPlayers from around the country. She is currently cultivating a small group of InterPlayers in Santa Fe. Ingrid works with improvisational dance musician Eric Chappelle to create meaningful and fun InterPlay experiences.