CHANGING THE RACE DANCE
A Workshop in InterPlay's Body Based Methods and Performance Forms
Soyinka Rahim
and
Cynthia Winton-Henry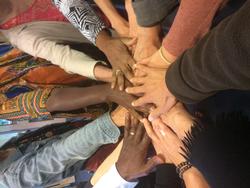 Chapel Hill, NC
April 20–21, 2018, Fri. 7:30-9:30 pm & Sat. 10:30 am-6 pm
Co-sponsored by Hurston Collective (UNC-CH), Triangle InterPlay, Resource Center for Women in Ministry in the South (RCWMS), Carolina Center for Public Service, Student Action with Farmworkers (SAF), HeartSpace Spiritual Resources (HSSR)


Synopsis:
This workshop expands the creative toolkit of educators, learners, and individuals-in-community. The weekend features an approach to training in InterPlay methods that expand our capacities to move out of systems of oppression and assimilation shaped by racism.
For people of color:
This is a restorative, replenishing event that focuses on reframing and centering in personal power. We will discover new ways to recover and honor our body knowledges, and to support our creative wisdoms. We will build arts-based practices for exploring and celebrating one's own truths, as they enrich and inform the collective.
For white people:
This event focuses on the clarity and health needed to attune to and shift race and identity paradigms. We will discover new ways to access our body selves to ground rather than flee amidst tension. We will build arts-based practices toward mutual connection and action to confront inequity in its myriad forms.
For all participants:
This retreat-based facilitation syncs expert leadership in racial justice themes with InterPlay performance forms, designed to accommodate all physical mobilities and experience levels. InterPlay happens in a low-pressure group format with step-by-step activities that use a system of movement, story, breath, song, and guided improvisation and contemplation. We believe arts and body-based learning can come face to face with social situations and people who are stuck and hurting to bring renewal, affirmation, ease, and respect. Along with personal illumination and rejuvenation, participants can expect to acquire skills and adaptable activities they can apply in their home communities and organizations.
Why now:
The current charged state of racial polarization present throughout the U.S. and globally promotes violence, silence, loneliness, and loss. With Changing the Race Dance, our visiting artist-scholars guide us to seek more of what we want instead: liberation, reparation, honoring grief, inter-connected integrity, and joyful bravery.
To Register:
Complete application at this link.
Participants must attend entire weekend. (Fri 4/20 + Sat 4/21) Free homestays possible.
Cost:

Suggested donation $5-50, for those who are able, scholarships widely available. (Bring cash or check to Body Wisdom)
Registration/Information:

marie@itisinyou.org and sonnykel@live.unc.edu with suggestions for organizational partners, interested funders, or your ideas of people to invite.

Venue
GERRARD HALL, UNC Chapel Hill
226-234 E Cameron Ave,
Chapel Hill, NC 27514
Leaders
Soyinka Rahim
Soyinka Rahim, founder and director of OurThing Arts Company and BIBOLOVE, is a Certified InterPlay Leader. Soyinka has a long history as a member of the Bay Area's most renowned modern and ethnic dance companies. Her work taps into the power of sound and vibration to create peace and happiness for all humanity. In addition, she created the original, acclaimed Dance Play "An Alter Piece to Alter Peace," and has worked with passion for intergenerational community in schools and community centers all over the West Coast and U.S. Her work as a conference weaver and workshop leader includes Race Forward, National Association for Independent Schools Teachers of Color, Boys and Girls Clubs, Spiritual Directors International, and the Parliament of World Religions.
Cynthia Winton-Henry
Cynthia Winton-Henry, co-founder of InterPlay with Phil Porter, has researched "what the body wants" in the arts, in jails, shelters, slums, hospitals, churches, businesses, classrooms, doctoral programs in theology and the arts, and in multicultural education. She develops somatic curriculums to address racism, leadership for the Earth, and spiritual intelligence with an eye to supporting millennials. A featured speaker on the Body Intelligence Summit and a keynoter at conferences, Cynthia is the author of What the Body Wants, Having It All: Body, Mind, Heart & Spirit Together Again at Last, Dance: A Sacred Art: Discovering the Joy of Movement as Spiritual Practice, and Chasing the Dance of Life: A Faith Journey,. Currently writing on Body Wisdom and Social Justice and on "Ensoulment," she coaches leaders seeking spiritual intelligence for our time at cynthiawinton-henry.com.